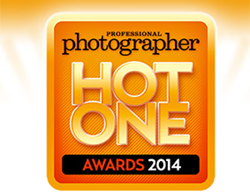 Atlanta, GA (PRWEB) August 20, 2014
Professional Photographer magazine announced today the 2014 Hot One Award winners, which signify the best products and services in the photographic industry.
The annual awards showcase the top offerings released in the previous year. Nearly 250 products were submitted by almost 100 companies, making the Hot One Awards one of the industry's biggest and most respected competitions for studio equipment, software, accessories and other pro photography gear and services.
Winners were elected by a panel of photographers, making this a purely democratic process by professionals, for professionals.
"The winners of the 2014 Hot One Awards represent 'the pro's choice' of new photographic products," said Jeff Kent, Hot One Awards editor for Professional Photographer. "This isn't some scientific analysis conducted by a bunch of clinicians in lab coats, but a poll of real pros working in the real world. The result is a list of worthy winners that help make professional photography easier, more creative and more efficient."
Professional Photographer magazine's Hot One Awards have represented the pros' choice of the year's best new photography gear for the past 15 years.
For more than 100 years, Professional Photographer, the official magazine of Professional Photographers of America (PPA), has helped readers advance careers in the photographic industry. Each issue contains practical yet cutting-edge lessons in the artistic, business and technological aspects of professional photography. No other magazine offers a more influential presentation of the people, trends, products and photographs changing and defining the portrait, wedding and commercial photography landscapes.
For information about Professional Photographer and for a full list of Hot One winners, visit PPmag.com.
About PPA
Professional Photographers of America (PPA) is the largest international non-profit association created by professional photographers, for professional photographers. Almost as long-lived as photography itself, PPA has roots that date back to 1869. It assists close to 27,000 members through protection, education and resources for their continued success. See why photographers love PPA at ppa.com.