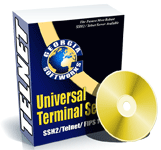 The Georgia SoftWorks UTS is excellent with either the M7225 or the Triton for barcode data collection within wireless environments.
Dawsonville, Georgia (PRWEB) August 29, 2014
Georgia SoftWorks successfully tested their Telnet Server for Windows with AML's devices, the M7225 and the AML Triton.
"Testing our software on new handheld computers allows us stay compatible with the latest barcode scanners on the market. It also helps us give better technical support when a customer is using one of these devices and has a question," said Doug Hitchcock of Georgia SoftWorks.
The M7225 wireless handheld computer is designed for use in retail, manufacturing, and warehouse data capture applications. This device is powered by Windows CE 6.0 and is available with a laser or 2D barcode scan engines. The AML Triton is a rugged handheld terminal that is known for its quick deployment with minimal configuration time.
Based out of Dallas, Texas, AML provides high performance, easy-to-use, and cost-effective barcode and data collection products. With customers all across North America and Europe, AML has been noted for their in-house engineering and their "everything included" philosophy.
"The Georgia SoftWorks UTS (SSH Server for Windows and Telnet Server for Windows) is excellent with either the M7225 or the Triton for barcode data collection within wireless environments. In addition to development and maintenance cost savings for application developers, this added flexibility allows customers to utilize existing hardware in heterogeneous environments," said AML in a newsletter.
Georgia SoftWorks is a software development company based in Georgia, USA that has received global recognition for their GSW Telnet Server for Windows and SSH Server for Windows. The GSW Telnet Server for Windows is excellent with mobile devices in RFID, RF Terminal, Barcode scanners and other data collection and wireless environments, making it a great software to be used on AML's devices and the industries they serve.
About Georgia SoftWorks:
Established in 1991, Georgia SoftWorks is a privately held software development company recognized for creating high performance data communications, system and telecommunications applications. Georgia SoftWorks has obtained a worldwide presence with its industrial SSH/Telnet Server for Microsoft Windows. GSW's long-term commitment to SSH/Telnet has led to the pioneering of major features such as Session Shadowing, Session Monitoring, Graceful Termination, Automatic Logon, Logon Scripting and more recently Team Services technology which allows mobile device users to transfer, swap, share and recover mobile device sessions. GSW has also provided the very first SSH Server to provide Digital Certificate Authentication with an Internet Information Server (IIS) like certificate-to-user account mapping. This includes 'One-to-one' and 'Many-to-one' mapping methods and also supports certificate trust lists (CTL).