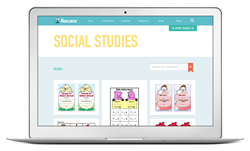 'Our new website makes ideas and activities available to all teachers and gives them the tools to be more efficient, so they can focus less on planning and more on teaching.
Greensboro, NC (PRWEB) August 21, 2014
After 40 years of publishing ideas, activities, worksheets, and other classroom resources for elementary education, The Mailbox proudly announces the launch of its new website, TheMailbox.com. Along with an extensive rebranding of The Mailbox, the company completely overhauled its website. The all-new TheMailbox.com provides teachers with free supplemental resources that help them be successful in the classroom. In addition to offering free resources, The Mailbox now offers its all-new Gold upgrade. With Gold, teachers can access The Mailbox® magazine in an interactive online format, create custom collections for filing ideas, plan and make notes with an online lesson planning calendar, print ideas and activities at once with a one-click print packet, and customize classroom tools such as spelling lists, flash cards, and more. For just $2.99/month, planning has never been easier.
Of the company's recent website launch, Kimberley Bruck—Director of Content Strategy & Development—said, "We work passionately to develop resources that equip teachers to meet today's standards while still finding inspiration and fun in what they do every day. Our new website makes ideas and activities available to all teachers and gives them the tools to be more efficient, so they can focus less on planning and more on teaching."
The new TheMailbox.com enhances the user's experience and engagement with The Mailbox, including

easy search for subjects such as language arts, math, science, reading, writing, and social studies
filter functionality that allows users to narrow or broaden results by grade level, skill or Common Core label, and activity type
share features, so users can quickly share content through social networks
a fully interactive digital version of The Mailbox magazine with Gold, allowing users to quickly download and print the latest reproducibles, centers, thematics, classroom management tips, and more
personalized collections, notes, a lesson planning calendar, a toolkit, and print packet with Gold
"We can now connect more deeply with teachers," said Bruck. "In addition to the magazines, books, and digital products that teachers know and love, The Mailbox proudly introduces the new TheMailbox.com—just one more way we're helping teachers to be the difference."
---------------------------------------------------------------------------------------------------------------------------------------------
About The Mailbox: The Mailbox—by The Education Center, LLC—was founded in 1973 to produce ready-to-use materials for the classroom. Today, The Mailbox publishes The Mailbox magazine, Teacher's Helper magazine, Learning magazine, The Mailbox books, and The Mailbox Yearbook. Its digital experiences include TheMailbox.com resources, Gold lesson planning tools, eBooks, eUnits, and whiteboard activities. All of The Mailbox's products are produced by teachers for teachers to keep the classroom creative while aligning to standards.
###