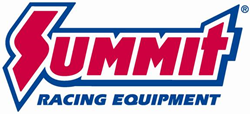 Tallmadge, OH (PRWEB) August 25, 2014
But with a little elbow grease and UMI Performance Pro-Touring suspension components from Summit Racing, anyone can make a GM A-body car handle like a modern musclecar—if not a little better.
Summit Racing carries these new UMI Pro-Touring components:
Stage 3.5 Handling Kits
UMI's Stage 3.5 Handling Kit provides better handling in a box. Ideal for street-driven cars that also see some autocross or road course time, the kit features one inch lowering springs with carefully tuned rates to eliminate the factory setup's "floating" feeling. The tubular front A-arms have Derlin bushings to improve steering response. The upper A-arms are caster-corrected, and feature 1/2 inch taller ball joints to help improve camber. The rear control arms have Roto-joints and polyurethane bushings to improve handling without a jarring ride. The upper control arms can be adjusted to fine-tune driveline pinion angle. Other components include:

4 RideTech HQ monotube shocks with rebound adjustment
Heavy-duty 1.25 inch front sway bar with new bushings and end links
Adjustable 1 inch rear sway bar
Tubular frame braces with hardware
Replacement rear axle housing bushings
Pro Touring Rear Suspension Kits
UMI Performance says these control arm kits provide handling rivaling a full Heim joint race suspension plus a decent ride on the street. The lower control arms feature Roto-Joints on each end for bind-free articulation, plus TIG welded sway bar sleeves. The upper control arms have Roto-Joints on one end and are fully adjustable to set pinion angle and lateral location. Finishing the kits are Roto-Joints to replace the rear axle housing bushings. The kits are designed for 1965-72 vehicles as the Roto-Joints will not fit 1964 rear axles.
Pro Touring Front A-Arm Kits
Made from strong DOM steel tubing, these fully assembled A-arms add 1.4 inches of spindle height by using a 0.9 inch taller upper and a half-inch taller lower ball joint. That provides addition camber for improved handling while retaining the factory spindle. The lower A-arms have polyurethane spring isolators for ride comfort and greaseable Delrin bushings for improved handling, plus an angled ball joint mount that offers additional tire clearance for lowered cars. The upper A-arms feature spherical rod ends, billet chromoly cross shafts, and relocated mounting pads to increase caster.
The UMI Pro Touring A-Arm Kits will work with factory springs, lowering springs, and coil-over kits. UMI includes recommended alignment specs for best handling and tire life.
See All Umi Pro Touring Suspension For 1964-72 Gm A-Body At Summit Racing
Summit Racing Equipment
http://www.SummitRacing.com
1-800-230-3030