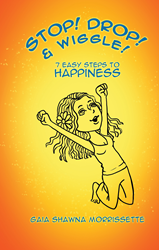 Creative and fun exercises to help readers...develop an outlook of gratitude, love and happiness...
Ontario, Canada (PRWEB) August 21, 2014
Are you tired of being unhappy? In a society filled with ongoing negativity and tragedy, author Gaia Shawna Morrissette reveals seven ways to make happiness your default.
Her new book "Stop! Drop! & Wiggle!" shares her journey of self-discovery in a candid, entertaining and thought-provoking approach while guiding readers through better understanding themselves by making healthy changes, including anger management and various meditation practices.
With more than 15 years of personal coaching and teaching experience, Morrissette brings both a personal and professional perspective to the pursuit of happiness. Drawing on her own battles with misery, abuse and trauma, Morrissette encourages others to overcome the difficulties and discover healthy, effective ways to express emotions.
"As I face each of life's challenges I choose to learn and grow though happiness and not through suffering," Morrissette said. "I am able to fully enjoy the things I have in my life, and I work to share my story and support others to embrace the same successful approach."
Designed to be a practical and lighthearted resource, "Stop! Drop! & Wiggle!" features creative and fun exercises to help readers tap into the joy of life and develop an outlook of gratitude, love and happiness.
For more information, visit bookstore.balboapress.com.
Stop! Drop! & Wiggle! 7 Easy Steps to Happiness
By Gaia Shawna Morrissette
ISBN: 978-1-45259-511-5
Available in softcover, hardcover, e-book
Available on Amazon, Barnes & Noble and Balboa Press.
About the author
Gaia Shawna Morrissette is a sexual wellness coach and founder of Succulent Living, a practice dedicated to helping people embrace happiness, explore emotions and understand the positive impacts of sexual wellness. She enjoys nature, meditation, travel, music and pottery, and lives with her husband and dog in Ontario, Canada. For more information about Morrissette and her global professional practice, please visit http://www.succulentliving.com.