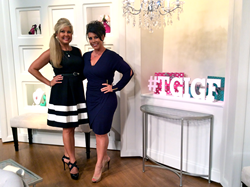 Every Friday night will be a new experience, with lots of viewer stories and questions to make it really personal and fun.
Knoxville, TN (PRWEB) August 21, 2014
Jewelry Television®, a multichannel jewelry and gemstone shopping network, has added 'Girlfriend Friday' to their Friday night line up from 8-10 P.M. The show focuses on fashion and jewelry, while encouraging women to share their jewelry stories and favorite trends on Facebook and Instagram. Fans have caught on quickly to the show's catchphrase "Thank Goodness It's Girlfriend Friday," with the accompanying "#TGIGF". JTV hosts Nikki Rouleau and Misty Mills, best friends for many years, love how the show brings women together to celebrate friendship and a shared passion for jewelry.
"Not only do I get the joy of hosting this show with my best friend, Misty, but she and I also get to interact with a larger sisterhood and share our love of all that sparkles and shines," said JTV's Nikki Rouleau. "Every Friday night will be a new experience, with lots of viewer stories and questions to make it really personal and fun."
The hosts will utilize social media platforms to open conversations with their fans and customers by sharing their own jewelry stories, pictures and lifestyle tips. By using the "#TGIGF", pictures and comments from fans and viewers can be shared on-air to connect this community of jewelry lovers together.
The show segment called "Girl…Tell Me About It!" identifies topical news and current events as they relate to fashion and jewelry. The hosts will also participate in a question-and-answer segment regarding styles, colors and jewelry that will feature a question of the day submitted by a fan. These segments will also incorporate responses on social media from JTV expert hosts and guests.
This show allows Nikki and Misty to bring the fun of a shopping experience with friends to the comfort and convenience of shoppers' homes. 'Girlfriend Friday' airs every Friday from 8-10 P.M. ET.
About Jewelry Television®
Jewelry Television® (JTV) is the only interactive, multichannel shopping network that focuses exclusively on the sale of jewelry and gemstones. The privately-held company was founded in 1993 and broadcasts high definition programming 24 hours a day, 7 days a week, to more than 80 million unique households in the U.S. Jewelry Television® was recently ranked the 13th largest retailer of jewelry in the U.S. by National Jeweler. JTV.com is the fifth largest jewelry destination on the internet according to Internet Retailer's Top 500 Guide for 2010. For more information, visit jtv.com.
# # #