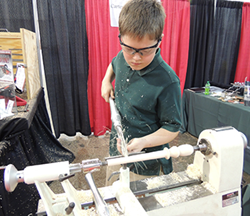 They put a lot of engineering in these tools.
Parkersburg, WV (PRWEB) August 21, 2014
Woodcraft has added a new line of quality woodturning tools from Carter and Son Toolworks that reflects a young woodturner's quest for a tool that requires less sharpening.
"They put a lot of engineering in these tools," Woodcraft product manager Ben Bice said. "The quality of the steel for one thing – the sharpness of the grind is amazing and the edge retention is phenomenal. And three inches of the tool fits into the handle, reducing much of the normal vibration."
Paul Carter, the "son" in Carter and Son, learned to turn wood at 10 and became passionate about woodturning – but not the amount of sharpening required to maintain his tools. When his father, David Carter, a metallurgist with many years of engineering and manufacturing expertise, explained that Paul's turning tools were soft metal, the young turner began to envision a tool made from a more durable material.
With his father's help, Paul decided to try M42 high-speed steel. The father-son team spent several years in product development – designing, testing, redesigning and retesting searching for "the best or nothing." Eventually they settled on a combination of solid M42 HSS and 10 percent cobalt that allows heat treatment to HRC68, which produces a razor-sharp, strong tool. They added solid aircraft grade aluminum handles designed to be comfortable and powerful, as well as easily and safely interchangeable – and Carter and Son Toolworks was born.
Valerie Carter, Paul's sister, directs national sales and created the vision for Carter and Son Toolworks. "Quality and precision are key principles in making our tools," Valerie said, "along with a dedication to the woodturners' passion and customer service that reflects that dedication."
Today, the Seattle-based company manufactures several woodturning tools as Paul and David continue to work on new products. What do the Carters want for their company in the future? "Seeing woodturners enjoy woodturning to the max with our tools is our favorite aspect of the business. We just want to continue to grow Carter and Son and serve turners around the world," Valerie and Paul said.
Bice said Darin Lawrence, director of the Woodcraft Product Development Department, first met the Carters at the Seattle Woodcraft store, which led to the young company's attendance at the 2013 Woodcraft Vendor Trade Show. "I was impressed by their presentation and the tools they had at the time," Bice said. "We corresponded over the next several months, which resulted in Woodcraft adding Carter and Son Toolworks products to our woodturning tool offering."
To learn more about Carter and Son Toolworks, visit http://www.carterandsontoolworks.com and follow them on Facebook, Twitter and YouTube.
For more information about Woodcraft, please contact the Woodcraft store nearest you, visit http://www.woodcraft.com or call (800) 535-4482. To learn about Woodcraft franchise opportunities, visit http://www.woodcraftfranchise.com or email woodcraftfranchise(at)woodcraft(dot)com.