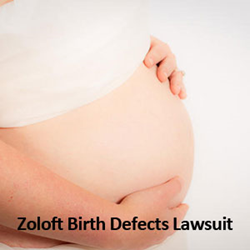 If you believe your newborn has suffered serious side-effects as a result of taking Zoloft or an SSRI Antidepressant contact Wright & Schulte LLC for a free legal consultation by calling 1-800-399-0795 or visit www.yourlegalhelp.com
Columbus, Ohio (PRWEB) August 30, 2014
As 500 Zoloft lawsuits pending ligation contend the SSRI andidepressant caused serioius birth defect when give to pregnant mothers, Wright & Schulte LLC recently learned of a remand issued by U.S. District Judge Cynthia M. Rufe. The remand in the Zoloft lawsuits was granted to 25 plaintiffs who are representative of 18 states and are involved in one SSRI lawsuit filed jointly under MDL 2342 and allows them to have their Zoloft birth defect lawsuit sent back to the Missouri state court in which it was originally filed. As of August 15, there are 521 Zoloft lawsuits pending in the MDL in which families similarly allege that the antidepressant drug caused birth defects in their newborns. The families also allege in their Zoloft complaints that Pfizer failed to adequately warn about the potential for birth defects from Zoloft use during pregnancy. All of the birth defect lawsuits filed in federal courts across the country have been consolidated in the U.S. District Court, Eastern District of Pennsylvania. (In re: Zoloft (Sertraline Hydrochloride) Products Liability Litigation, MDL-2342)
Wright & Schulte LLC is currently representing clients across the country in Zoloft lawsuits and continues to speak with mothers who believe their newborns birth defects are a result of taking Zoloft while they were pregnant. To speak with one of the firms experienced product liability attorneys contact Wright & Schulte LLC at 1-800-399-0795 for a free legal consultation, or visit http://www.yourlegalhelp.com for more information.
The Missouri plaintiffs contend their Zoloft lawsuit lacks diversity and therefore, a state court has jurisdiction over the lawsuit. A federal court may have jurisdiction if no two plaintiffs or defendants are located in the same state. Court documents show the plaintiffs are from 18 different states and two families live in New York and one in New Jersey. The plaintiffs named as defendants, Pfizer Inc., the maker of Zoloft and its subsidiary, Greenstone LLC, and J.B. Roering & Co., a division of Pfizer Inc. Pfizer and Roerig are located in New York while Greenstone is located in New Jersey. In a ruling issued in June, Judge Rufe wrote that Missouri courts have jurisdiction because they allow multiple plaintiffs to file one lawsuit together even though they may have suffered separate injuries that require individualized proof of those injuries. Judge Rufe also addressed Pfizer's claim that the Missouri plaintiffs fraudulently added a defendant to their lawsuit in order to make the case eligible for filing in federal court.
The judge maintained that Pfizer did not prove that a defendant was fraudulently joined to the case, so she would send the case back to Missouri and leave "any necessary determination" of improper joining to the Missouri state court.
Zoloft, approved by the U.S. Food & Drug Administration in 1999, is in a class of psychotropic drugs called Selective Serotonin Reuptake Inhibitors (SSRI). SSRIs are used as antidepressants to treat anxiety disorder, obsessive compulsive disorder and post-traumatic stress disorder. In July 2006, the FDA issued a warning about the increased risk of neonatal persistent pulmonary hypertension in babies whose mothers took SSRIs, like Zoloft, during pregnancy. The FDA issued its warning after reviewing a case-control study published February 9, 2006 in the New England Journal of Medicine. The study found that infants born to mothers who took SSRIs after their 20th week of pregnancy were six times more likely to have persistent pulmonary hypertension than infants born to mothers who did not take antidepressants during pregnancy.
[fda.gov/Drugs/DrugSafety/PostmarketDrugSafetyInformationforPatientsandProviders/ucm126522.htm, July 2006]
[nejm.org/doi/full/10.1056/NEJMoa052744, February 6, 2006]
Court documents in this Zoloft lawsuit litigation indicate that the first bellwether trial for the Zoloft MDL had been scheduled for November 3, 2014, before Judge Rufe, but Pfizer asked for more time to prepare for trial. Judge Rufe issued an order in May changing the trial date to January 5, 2015. The plaintiffs and defendants have not yet selected the cases for trial. Among the pool of cases in the MDL is a birth defects lawsuit filed on behalf of an Indiana couple who allege that their child was born on May 29, 2002, with physical deformities allegedly caused by Zoloft, which the mother took while she was pregnant. The lawsuit, which names Pfizer as a defendant, said that the mother was prescribed Zoloft to treat her depression and anxiety prior to her pregnancy. The birth defect lawsuit further states the woman took the antidepressant through the entire gestation process and that the baby was born with physical deformities including left foot polydactyl (an extra toe), short left index finger and delicate cartilage to one of her big toes. The Zoloft lawsuit purports that Pfizer Inc. was responsible for warning physicians and their patients of the possibility of physical deformities occurring allegedly as a result of using Zoloft.
About Wright & Schulte LLC
Wright & Schulte LLC, an experienced personal injury firm, is dedicated to the belief that America's legal system should work for the people. Every day, the attorneys of Wright Schulte LLC stand up for the rights of people who have been injured or wronged, and fight tirelessly to ensure that even the world's most powerful corporations take responsibility for their actions. If you're looking for a law firm that will guarantee the aggressive and personal representation you deserve, please do not hesitate to contact Wright & Schulte LLC today. Free Zoloft lawsuit evaluations to alleged victims of SSRI antidepressants, including Zoloft, are available through yourlegalhelp.com, or call 1-800-399-0795.
Contact:
Wright & Schulte LLC
812 East National Road
Vandalia, Ohio 45377
1-800-399-0795
http://www.yourlegalhelp.com
Like us on Facebook
Follow us on Twitter
Join us on Google+