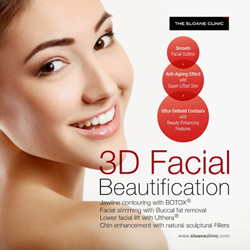 We recognise that total beautification encompasses a holistic rejuvenation of several facial factors. That is why at The Sloane Clinic, we capitalize on the advantages of a myriad of synergistic treatments to address an entire spectrum of beauty concerns.
SIngapore (PRWEB) September 09, 2014
The Sloane Clinic™, a leading chain of medical aesthetic clinics in Singapore and Malaysia providing advanced aesthetic dermatology and cosmetic solutions now launches the 3D Facial Beautification program - a potent youth reviver that combines four age-defying innovations for those serious about turning back the ageing clock.
Ravages of time creep up on the skin in the form of dullness, wrinkles and loss of skin elasticity and facial volume, due to declining skin regeneration and collagen. Advancements in medical science now allow almost anyone to defy the laws of gravity and time. Age is nothing but a number.
Synergistic Effect
The Sloane Clinic's 3D Facial Beautification program holistically delivers an ultimate uplifting experience as it employs a synergistic combination of four therapies, namely Ulthera®, Botox®, Dermal Fillers and Buccal fat removal to provide a three-dimensional rejuvenation of the lower face and jaw line. These beautification processes work in harmony to achieve optimal aesthetic benefits such as restoration of their skin firmness, enhancement of jaw line definition, improvement in skin tone and last but not least, a boost in their self confidence.
Injectables – Botox® & Fillers
Botox® Injections are often combined with dermal fillers to offer patients a more holistic facial rejuvenation; patients can enjoy the dual mechanisms of both treatments to achieve a natural and more harmonious look. Generally, Asians dream about the perfect V-shape face shape (or the triangle of youth - sharp chin and more defined jaw line). To achieve a defined jaw line contour, Botox® will be injected into the pronounced jaw muscle to narrow the patient's facial width. Coupled to that, dermal fillers can be used to reshape small and subtle chins thus creating a sharper one. The V-shape face dream is now a reality. At The Sloane Clinic, doctors use Restylane Hydrolift treatment to lift and tone lackluster skin. For those desiring more volume and definition to their chin, Voluma High Definition lift can be used to sculpt and contour.
Ulthera®
This treatment shoots small little pulses of ultrasound rays below the skin to strengthen the skin's collagen support and visibly lift saggy jaw lines, yielding beautifully contouring results. Patients can also achieve dramatic and long lasting benefits of facial firming, skin tightening and lifting. This treatment is highly sought after to rid the lower face of saggy jowls as well as unsightly double chins.
Buccal Fat Removal
Buccal fat are fat pads that augment the lower part of the cheeks. These are responsible for the appearance of "chubby cheeks" or "chipmunk cheeks" and can result from weight gain and genetic predisposition. Buccal fat removal provides a solution to help those who want to achieve a more chiselled look by reducing the size of their cheeks. Removal of these fat pads therefore results in slimmer silhouette thereby enhancing the facial contour. All of the aforementioned treatments can be used singly or combined in a synergistic manner to provide an effective 3D facelift result. The facial contouring techniques employed can balance out facial proportions ideally, accentuating one's features in perfect symmetry.
All treatments are available at The Sloane Clinic branches, unless otherwise stated.
About The Sloane Clinic™
The Sloane Clinic™ is a chain of medical clinics, addressing aesthetic concerns for the skin, face and body. Its doctors constantly seek out and fuse the latest non-invasive cosmetic dermatology and cutting-edge plastic surgery techniques to help patients enhance their appearance, freeing them from the boundaries set by age and society. Whether it is a subtle enhancement or a dazzling makeover, The Sloane Clinic™, can answer them all with its comprehensive armamentarium of beauty innovations, dedicated medical aesthetic team, fully-trained plastic surgery team and wide range of skincare by Sloane Inc. For more information, please visit http://www.sloaneclinic.com.
For media queries and visuals, please contact:
Emili Tay
Email: emilitay(at)sloaneclinic(dot)com
Tel: +65 6222 3728