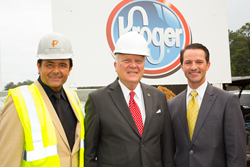 Atlanta, GA (PRWEB) August 23, 2014
Governor Nathan Deal led the August 19 groundbreaking celebration of Kroger's new distribution center at Gillem Logistics Center in Forest Park. Kroger, one of the world's largest grocery retailers, will open a state-of-the-art distribution center on the nearly 1,000-acre Fort Gillem property, a former U.S. Army base.
"The 120 new jobs and more than $175 million in investment that Kroger will bring will go a long way toward helping those living in and around Forest Park," Deal said. "The transportation and logistics network that Georgia possesses will help Kroger better meet the needs of its customers throughout the Southeast. I'm thrilled that this property at Fort Gillem will continue its legacy of supporting economic development in its new capacity and look forward to further development."
The one-million-square-foot distribution center – which will service existing operations in Alabama, Georgia, South Carolina and Tennessee – will create 120 new jobs and invest more than $175 million over the next five years. The new jobs at the Forest Park facility will include warehouse, security, transportation management and other maintenance positions.
"It has such great access to all the expressways. We can get to our stores quickly from here. We have such great road systems in Georgia today, but I'm excited because my parents and I used to shop on this base in the 70s," said Kroger Atlanta Division President Bruce Lucia.
"By benefitting commerce in Forest Park, it's not a benefit simply to a faceless, fictitious corporation. It has impact on real people, it is real jobs, it is real revenue for the City of Forest Park," added Forest Park Mayor David Lockhart during the event. "It allows us the extra revenue. It is projected that we can perhaps double Forest Park's tax base, we can lower the marginal tax rate on our existing businesses, and we can still bring in even more revenue to provide better services than we are already providing."
The City of Forest Park assisted Kroger with this new facility. The Fort Gillem property, where the Kroger facility will locate, was officially transferred from the Department of Defense to the city of Forest Park for this project. The city of Forest Park partnered with master developer Forest Park/Fort Gillem Implementation Local Redevelopment Authority (ILRA) to redevelop the former army base to be named Gillem Logistics Center.
"Kroger is excited to close on 253 acres of property to build a new state of the art distribution center," said Glynn Jenkins, director of communications and public relations for Kroger's Atlanta Division. "The one-million-square-foot facility will improve efficiencies, help the economy in the communities we serve and deliver products to our stores much more quickly. We thank Governor Deal, the Georgia Department of Economic Development, Forest Park Mayor [David] Lockhart and the city of Forest Park for supporting Kroger with this project."
Kroger has a significant presence throughout Georgia and currently employs more than 24,000 Georgians. The company's existing operations include two food manufacturing facilities, distribution centers and numerous retail locations in Georgia. Charlie Moseley, senior project manager on the logistics, energy, agribusiness and food (LEAF) team at the Georgia Department of Economic Development (GDEcD), assisted the company on behalf of the state.
ABOUT KROGER
Kroger's Atlanta Division is headquartered in Atlanta, Georgia and is one of the Southeast's largest retail grocery chains with over 184 stores covering, Georgia, eastern Alabama and South Carolina. Kroger was recognized by Forbes as the most generous company in the U.S. The Company focuses its charitable efforts on hunger relief, K-12 education, women's health initiatives and local organizations in the communities it serves. For more information about Kroger, please visit http://www.kroger.com.