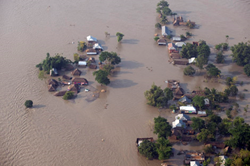 Sarasota, Fla. (PRWEB) August 21, 2014
A ShelterBox response team is being mobilized in response to large scale flooding, which has affected vast swathes of Nepal, caused by days of incessant rainfall.
Earlier this month, communities along the Nepal-China border were submerged by rising floodwater. Meanwhile, similar scenes have been witnessed along the Nepalese border with India and many districts in between. It is now estimated that as many as 19 districts are currently under water across the mountainous country.
International disaster relief organization, ShelterBox, is responding to the crisis. The organization provides humanitarian aid—emergency shelter and other supplies, such as water filters, stoves, and blankets, among other tools to help families rebuild their lives after losing their homes and possessions following a disaster such as earthquake, volcano, flood, hurricane, cyclone, tsunami or conflict.
Along the western border of the country, flood damage was so severe that much of the infrastructure was washed away. Around 20,000 families had to be evacuated by helicopters into neighboring India.
As conditions have worsened, fears of a potential outbreak of cholera have emerged. Drinking water has become contaminated in recent days and many fear the worst of the damage to buildings will not become fully apparent until floodwaters have receded.
Nepalese authorities have been quick to provide food and medical supplies but there remains a need for shelter as families are still left stranded from their homes. ShelterBox last sent aid to Nepal following flooding in 2008.
ShelterBox continues to respond to the Syrian refugee crisis, conflict in Iraq, flooding in Paraguay and Argentina, and typhoons in the Philippines. For the latest on ShelterBox deployments, visit http://www.shelterboxusa.org/news.
Since 2000, ShelterBox has provided shelter, warmth and dignity following more than 240 disasters in over 90 countries. ShelterBox's American affiliate, ShelterBox USA, is headquartered in Sarasota, Florida. Individual tax-deductible donations to ShelterBox USA can be made at http://www.shelterboxusa.org/donate or by calling 941-907-6036.