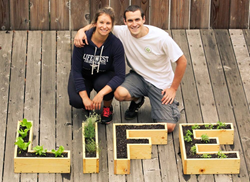 "We want to be a resource that provides education and knowledge to those interested and eager to learn about local food,"- Peter Zabelin, founder of LocalGrow
San Francisco, CA (PRWEB) August 22, 2014
LocalGrow, a San Francisco-based organization, seeks to mobilize the local food movement by making gardening and farming more mainstream, accessible and informative for the community. Senator Mark Leno will show his support for LocalGrow as the startup launches its latest tool, MyGarden, Aug. 24, from 11 a.m.- 4 p.m. at Sunday Streets in The Mission District of San Francisco. Leno will be planting the inaugural seeds in LocalGrow's planter box, presenting LocalGrow with a state of proclamation at noon PST.
"We want to be a resource that provides education and knowledge to those interested and eager to learn about local food," Peter Zabelin, the founder of LocalGrow said. "After all, everybody should garden on his or her own and provide for themselves to some degree. LocalGrow is the tool by which you provide for yourself."
LocalGrow's social networking space and latest feature, MyGarden, serves as an interactive idea exchange for home gardeners to easily share updates on gardening tips and news. Through MyGarden, users create a profile and design a virtual garden that mirrors their actual garden space. This allows professional farmers to connect directly with their consumers in an innovative way. Users can then upload photos, follow other MyGarden users based on location or produce type and access gardening information about any particular plant.
As an official sponsor of the 50th Sunday Streets celebration, LocalGrow will have a booth at the Aug. 24 event in the city's Mission District. There will be demonstrations of the MyGarden tool and general information introducing the community to the benefits of gardening and how it aids in San Francisco's sustainable food movement. LocalGrow will also feature a fun gardening activity coinciding with Sunday Streets' mission of encouraging recreation, community engagement and fun in San Francisco, with the help of Senator Leno.
To learn more about LocalGrow and the MyGarden platform, visit LocalGrow home page or follow LocalGrow on Twitter.
About LocalGrow
LocalGrow is an independent organization dedicated to creating more agriculturally informed communities around the world. Founded in 2008, LocalGrow's mission is to connect people, through gardening knowledge, to enrich lives. LocalGrow launched its first program, WikiGrow, in April of 2012. WikiGrow provides an easy-to-understand outline of gardening information to guide local gardeners of all skill levels through the process of cultivating a successful harvest. LocalGrow is headquartered in San Francisco.