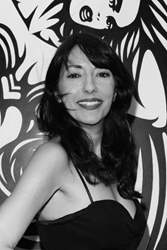 The students in (my) talk-show-style classes have encouraged me to be a TV host in the first place. That's why I want to dedicate my show's award nomination to them and to all my CSUN students.
Los Angeles, CA (PRWEB) August 22, 2014
"Dr. Luciana Show – Aging and Falling" is currently in post-production. Luciana Lagana, aka Dr. Luciana, is finding it challenging to stay on top of post-production tasks with a limited budget and while taking care of hundreds of students, so the editing of the episodes will take time. The 10-minute trailer for the show is completed, and she recently entered it into the festival circuit.
Together with other fun projects including those of her husband, actor/screenwriter Gregory Graham, the aging and falling show of Dr. Luciana will screen on Monday, August 25th between 7 and 8 pm at Krikorian Monrovia Cinema 12 & LFX, located at 410 South Myrtle Avenue, Monrovia, CA 91016. It is one of six TV shows that are nominated for an award at the 2014 Action on Film International Film Festival. Tickets are available at aoffest.com.
Teaching at California State University Northridge for over 14 years has been a dream come true for Dr. Luciana. She enjoys teaching and mentoring hundreds of students per semester, as well as conducting research on the physical and psychosocial needs of older women, the well-being of women of all ages, adult behavioral medicine/health psychology, ethnogeriatrics, and sexuality.
Three of her classes, which cover conflict resolution in intimate relationships and sexuality, have an unconventional talk show format and last 7 and ½ hours per day. But Dr. Luciana is not tired by the end of each class. "I actually have more energy by 7:30 pm than I did at noon, and it is all because my wonderful students share their energy and enthusiasm with me during all those hours," she reveals. "The students in these talk-show-style classes have encouraged me to be a TV host in the first place. That's why I want to dedicate my show's award nomination to them and to all my CSUN students," states Dr. Luciana.
Over the years, many of her gerontology students have asked her to provide media coverage of challenges commonly faced in older age that worry older adults and those who care for them. Earlier this year, Dr. Luciana was persuaded by one of her former graduate students to shoot an independent TV show to cover a very serious topic: falling in older age. "At first I was reluctant to do the show, because I figured that the topic would not be entertaining, or at least I did not think that I would manage to make it even a bit compelling. It is hard to cover such a serious topic in an entertaining yet respectful way. But falling in older age is a very important issue that should receive more coverage in the media, so eventually I accepted the challenge and I tried to make it at least a little entertaining. I was fortunate to shoot the TV series with director of photography Phil Moore, who is an Emmy award winner, and with delightful guest speakers with expertise in kinesiology, psychology, gerontology, chiropractic care, and martial arts," explains Dr. Luciana.
"The AOF fest has been very good to me and my husband," shares Dr. Luciana. "Last year, we won Best Dramatic Screenplay for Old River Road at AOF fest and at Canada International Film Festival. This year, the script has received additional recognition, including the Indiewood Honorable Mention at Bare Bones International Film Fest. It also has award nominations at Beverly Hills Film Fest, as well as at the International Film Festivals of Charleston, Columbia Gorge, ReelHeART, and Sacramento. It is a moving script that covers critical social issues and is inspired by true events in the life of my husband when he lived in Iowa."
This year, Old River Road is nominated at AOF fest as one of eight screenplays that are competing to be produced. "Only one of them will make it, so I am not getting my hopes high. I already consider myself very lucky that the Dr. Luciana Show on falling in older age has been nominated, as well as a family/youth TV pilot script entitled Special Matchmaking, which I wrote with my husband. I am very grateful for the good will that festival judges are showing towards our creative endeavors," reveals Dr. Luciana.
Earlier this month, Dr. Luciana and her husband were interviewed on the Del Weston's Action on Film Show, co-hosted with Mark Giardino. "At the taping of the TV show, Del (the director of the AOF fest) was so smooth and at ease in front of the camera. I have no idea how he can be so relaxed under pressure," shares Dr. Luciana. "And he was joking with everybody using his signature sense of humor. I still remember when, at the 2013 AOF award ceremony for screenwriters, Del pretended that a different dramatic screenplay had won. He read parts of a script that was allegedly the winner, and then proceeded to announce that Old River Road had won. As a result, I was in shock during most of the acceptance speech," she recalls. The timing of this festival is perfect, as Dr. Luciana will start teaching classes on August 27th. "Attending this festival will be a great way to energize me for an exciting Fall semester, during which I will teach four classes attended by over 300 students," she concludes.
Written by Matthew Terhune, MFA
Dr. Luciana Lagana is a caring clinical and experimental psychologist and an established professor of psychology, gerontology, sexuality, and women's health at California State University Northridge (CSUN), where she teaches classes and mentors many students. At CSUN, she also conducts government-funded research on ethnically diverse, primarily low-income older women's physical, psychological, social, and sexual health. Concerning her artistic pursuits, in her teenage years, she acted in a touring theatre company in Italy. Dr. Luciana is an award-winning actress/screenwriter and has 36 IMDb credits for acting in independent movies and TV series since 2006.