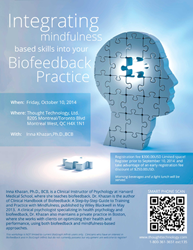 The mindfulness and acceptance approach to biofeedback can help people experience change through mindful, non-judgmental awareness and acceptance.
Montreal, Quebec (PRWEB) August 22, 2014
On October 10, 2014, Dr. Inna Khazan will be in Montreal, Canada to present an in-depth workshop on mindfulness and biofeedback at Thought Technology's corporate headquarters. In the one-day workshop, participants will learn how to apply mindfulness and acceptance techniques to their biofeedback practice.
According to Dr. Khazan, "Biofeedback is often described as a way to help people control their physiological responses. However, extensive research shows that efforts to "control" one's internal experience can be counterproductive and lead to exacerbation of the problem. In contrast to unhelpful efforts to control internal experience, the Mindfulness and Acceptance approach to biofeedback can help people experience change through mindful, non-judgmental awareness and acceptance."
Mindfulness and Acceptance techniques will be explained in detail, in combination with practical demonstrations of the integration of mindfulness based skills and biofeedback, using biofeedback equipment. All biofeedback modalities have their place in the mindfulness paradigm:

Balancing of the autonomic nervous system through breathing and heart rate variability,
"Trying" and the resulting frustration embodied in peripheral temperature training,
Awareness of thoughts & feelings without fighting them, as seen with skin conductance monitoring,
Interpreting relaxation profiles through minimal muscle tension readings.
Integrating Mindfulness Based Skills into your Biofeedback Practice
Date: Friday, October 10, 2014
Presenter: Inna Khazan,Ph.D.,BCB
Location: Thought Technology, Ltd.
8205 Montreal/Toronto Blvd
Montreal West, QC H4X 1N1
Limited space! Register prior to September 10, 2014 and take advantage of the early registration fee.
About Dr. Inna Khazan
Inna Khazan, Ph.D., BCB, is a Clinical Instructor of Psychology at Harvard Medical School, where she teaches biofeedback. Dr. Khazan is the author of Clinical Handbook of Biofeedback: A Step-by-Step Guide to Training and Practice with Mindfulness, published by Wiley Blackwell in May 2013. A clinical psychologist specializing in health psychology and biofeedback, Dr. Khazan also maintains a private practice in Boston, where she works with clients on optimizing their health and performance, using both biofeedback and mindfulness-based approaches.
About Thought Technology Ltd.
Founded in 1975, Thought Technology is the world's leading biofeedback and physiological instrument manufacturer. Its products are used as an essential part of many therapeutic treatments and clinical assessment protocols in over 85 countries and are used by tens of thousands of clinicians in thousands of medical institutions. Each year, it puts together a number of workshops, taught by world authorities in their fields. Always supportive of new research and development ideas, Thought Technology Ltd. continues to encourage special interest groups and clinicians to create cutting edge applications for its instrumentation.
Contact:
Helen Mavros (Inside Sales and Marketing Manager - Overseas Sales)
Helen(at)thoughttechnology(dot)com
Thought Technology Ltd.
1-514-489-8251
MAR1047-00