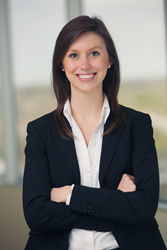 We are proud of Ashley's accomplishment. Her dedication to the demanding and rigorous course of study demonstrates her deep commitment to our clients and to our firm -- Porter L. Ozanne, III, president.
Dallas, TX (PRWEB) August 27, 2014
Probity Advisors, Inc. is proud to announce that one of its associates, Ashley Allen, has passed Level III of the prestigious Chartered Financial Analyst® (CFA®) Program. By successfully passing the third and final level of the CFA Program exams, Ms. Allen is closer to achieving the investment profession's most rigorous and esteemed credential, the CFA charter.
To earn the CFA designation, candidates must sequentially pass three six-hour exams, have four years of qualified work experience, and pledge to adhere to the CFA Institute Code of Ethics and Standards of Professional Conduct. Preparation for the three exams typically requires at least 900 combined hours of study, and completion of the CFA program usually takes three to five years.
Due to the rigor of the program, only around one in five candidates who enroll in the CFA Program pass all three exams and meet the work experience and professional and ethical requirements to earn the charter. Ashley's progress toward achieving this designation is even more significant given that less than 17 percent of all CFA holders in the U.S. are women. The CFA Program covers securities analysis and valuation, international financial statement analysis, economics, corporate finance, quantitative methods, portfolio management, wealth planning, performance measurement, and ethical and professional standards.
Ms. Allen joined Probity Advisors, Inc. in 2012 and may become eligible for the CFA designation upon completion of the required work experience. Ms. Allen earned a degree in Finance from Louisiana State University in Baton Rouge, LA, where she was awarded the Golden Oaks Scholar Award for outstanding academic achievement and the Allison R. Kolb Memorial Scholarship given to an outstanding junior or senior who majors in banking or finance. Allen served as president of the Pan Hellenic Honor Society Rho Lamba, was a member of the Student Finance Association, and served as Vice President of Finance for her sorority. While in Louisiana, Allen volunteered at Junior Achievement Finance Park where she taught students essential personal financial and budgeting skills.
"I am thrilled to be closer to achieving this designation and to acquire the advanced skills and investment expertise that enable my colleagues and me to offer our clients best-in-class advice and guidance," Allen said.
If she is awarded the designation by CFA Institute, Ms. Allen will become the third CFA charterholder at Probity Advisors, Inc. Portfolio Manager Adam Bronson and Vice President Christopher Sorrow both earned their CFA charterholder designations in 2006.
Porter L. Ozanne, president, Probity Advisors, Inc., stated, "We are proud of Ashley's accomplishment. Her dedication to the demanding and rigorous course of study demonstrates her deep commitment to our clients and to our firm." Ozanne added, "By having a number of CFA charterholders on staff, we hope to reinforce and instill a high degree of trust and confidence with the individuals and families we serve that we are committed to protecting and preserving our clients' wealth with the utmost level of integrity and ethical principles."
About Probity Advisors, Inc.
Probity Advisors, Inc. is a financial services firm based in Dallas, Texas. For more than 60 years, Probity has helped individuals, families, and businesses manage their financial assets and resources in order to achieve financial independence and security. With expertise in customized portfolio management, estate planning, retirement benefits consulting, risk management solutions and tax planning, Probity provides a comprehensive and integrated approach to managing and building wealth. Probity's team of CERTIFIED FINANCIAL PLANNER® practitioners, CFA® charterholders, and Chartered Financial Consultants® is committed to providing sound and unbiased advice to help clients optimize their complete financial picture with a coordinated estate, investment, and tax strategy.
About CFA Institute
CFA Institute is the global association for investment professionals. It administers the CFA® and CIPM® curriculum and exam programs worldwide; publishes research; conducts professional development programs; and sets voluntary, ethics-based professional and performance-reporting standards for the investment industry. CFA Institute has nearly 125,000 members in 145 countries and territories, including 116,500 CFA charterholders, and 144 member societies. More information may be found at http://www.cfainstitute.org.