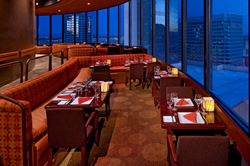 We are proud to know these diners thoroughly enjoyed their overall experience
Phoenix, AZ (PRWEB) August 26, 2014
Compass Arizona Grill at Hyatt Regency Phoenix has been named a winner of OpenTable Diners' Choice Awards for the Top 100 Scenic View Restaurants in America. The list of winners is derived from more than five million reviews submitted by OpenTable diners for more than 19,000 restaurants in all 50 states and the District of Columbia.
"We are very pleased and humbled by this acknowledgment from OpenTable diners," said Pete Jones, Director of Operations, Hyatt Regency Phoenix. "We are proud to know these diners thoroughly enjoyed their overall experience at Compass Arizona Grill and gave us such high marks. We also want to congratulate the other restaurants on the list."
Based on feedback collected from OpenTable diners between July 1, 2013, and June 30, 2014, the 100 award winning restaurants received the highest scores.
"We are thrilled to honor the 2014 Diners' Choice winners for Top 100 Scenic View Restaurants in America," said Caroline Potter, OpenTable Chief Dining Officer. "These restaurants represent the best in destination dining, highlighting the best vistas of the cities in which they are located."
For more information about Compass Arizona Grill at Hyatt Regency Phoenix, please visit: http://www.phoenix.hyatt.com
About Compass Arizona Grill
Compass Arizona Grill, located at 122 North Second Street, Phoenix, Arizona, is Arizona's only revolving restaurant located atop of Hyatt Regency Phoenix downtown. A Valley favorite, this contemporary upscale casual restaurant offers seasonal menus featuring dishes regionally influenced with local ingredients. Compass offers a list of highly allocated wines to pair with your dish. For reservations, call (602) 440-3166 or visit opentable.com. For additional information on Compass Arizona Grill please visit phoenix.hyatt.com. For media inquiries, please contact Danyell Schastny, Director of Sales and Marketing at (602) 440-3110 or danyell.schastny@hyatt.com.