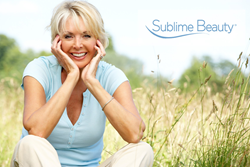 Use of these 4 products can raise the bar on collagen production.
St. Petersburg, FL (PRWEB) August 22, 2014
The natural loss of collagen, or slower production of it, is behind those fine lines, wrinkles and sagging of skin. Using products to boost collagen and nurture it counteracts the loss.
"By age 40, the body has lost about 15% of it collagen production and by age 60, it has lost about 45%," says Kathy Heshelow, founder of Sublime Beauty®. "Collagen holds up the structure of skin, and with less of it - well, we know what happens."
Collagen in fact makes up more than 70 percent of our skin and is the most abundant body protein.
"We can't just add back collagen, as it won't 'stick' for more than a day or so. We have to boost its production levels," says Heshelow.
One standout is the peptide Matrixyl, which can double collagen production, discovered in independent scientific tests by Ian Hamsley at Reading University.
Growth factors in stem cells are another powerful way to boost collagen levels. In addition, Retinol can encourage collagen synthesis while helping with other signs of aging.
Sublime Beauty recommends 4 products to raise the bar on collagen levels and improve skin. All are available on Amazon and on sale now:
1) Ageless Serum with Renovage and Matrixyl
2) Collagen Peptide Serum with Matrixyl
3) Cell Renewal | Fibroblast Serum
4) Ret inol Serum with Vitamin C
The Collagen Peptide Serum and Cell Renewal (stem cell serum) should be used twice daily after cleansing skin. The Retinol Serum is used at night only, with the added bonus of skin-friendly Vitamin C to help heal and protect skin during sleep.
The Ageless Serum can be used as a day and night cream, and is applied following the serums.
Use of these 4 products will help boost collagen levels and reduce fine lines, wrinkles and sagging of skin.
All products are available on Amazon. In addition, all products are available at the company webstore, SublimeBeautyShop.com, with free standard shipping and a VIP Club to earn points.
ABOUT: Sublime Beauty® is a quality skincare company that focuses on products to "Age Younger". Ingredients help to boost collagen, hydrate, relax wrinkles and improve skin. A niche includes healthy Skin Brushes. The company webstore offers free standard shipping and a VIP Club. Sign up for Secret Sales on the site.