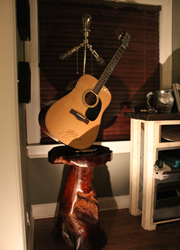 Its the spirit of the piece that people gravitate towards.
Nashville, TN (PRWEB) August 23, 2014
Industrialighting is a studio based in Nashville, TN. Founder Read Hauck got into creating these fixtures as a means of healing and tribute.
Read states, "I will explain: Last October, my younger brother, who was my best friend, was killed on his Harley Davidson. It was then that I realized that life is too short to just go through the motions. I married my fiancé a month later and as an artist, she was creating and designing every day and I saw the joy it brought to her. I decided to begin the healing process through creation and expression. Once I began, I realized that the fixtures that were born as a result (in a strange sort of way) served as tribute to the incredible life that my brother lived and also, happened to be really cool at the same time."
Read explains that his creative process begins every day when he wakes up. Everywhere he goes, he will seek out unique, older, antique items that would serve as a good light fixture. Read states, "the lights are simply placed upon the antique to make the object come to life once again."
His creative abilities are a direct result of his desire to help breath life into what would otherwise be "discarded" items whose time has come and gone. It motivates Read to see these objects revived and it is something that I have never experienced before.
"I think the most challenging part of this process is having to adjust and conform to the structure (the nuts and bolts) of whatever item I am using as a base for the fixture. The items I use are antiques from the 20s on up to the 70s and they made things differently back then. To disassemble an electric fan that was made in 1940 is a monumental task. Think about it, there was no air conditioning back then and the best of the engineers were devoted to making these fans so that they would turn forever. It takes some time to say the least, and I am constantly amazed at how well they used to do things back then," Read explains.
"I have been overwhelmed with the feedback that I receive from anyone who sees these items. I had a lady from British Columbia write to me asking to ship a very large antique camera that I converted to a light fixture only to find that it was too large to ship to Canada for less than a small fortune. I apologized for not being able to get it to her and we parted ways. A month later she emailed me and told me that she couldn't get the fixture out of her mind and she had to have it at any cost. That, to me was the most rewarding single moment since I began."
Hauck states, "I am proud to present the new line of fixtures, but my favorite creation was the very first fixture I created. My wife challenged me to create a light out of a random selection of pipe fixtures. She did this to spark the creative process within myself and needless to say, it took off and since that moment, I haven't stopped to think about much of anything else. At the end of the day, or the end of everything I create, I see new life and, I remember all of the times that I had with my little brother and all of the life that he and I lived together and then I think to myself, what a wonderful world."
Industrialighting is a studio based in the 12th south district of Nashville, Tennessee. Most of the work is displayed on Etsy under the shop name Industrialighting. For more information or to view Read's portfolio online please click the link.