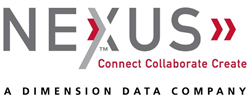 The unprecedented organic growth of Nexus this past decade was only possible due to the vision and effort put forth by our employees, customers and strategic partners.
Valencia, CA (PRWEB) August 22, 2014
Nexus IS, Inc. ("Nexus"), a leading global provider of professional, cloud and managed services for advanced IT solutions, moved forward 584 places to number 2,844 on Inc.'s 500|5000 list, an exclusive ranking of the nation's fastest-growing private companies. The ranking, in its 33rd year, is the result of business performance analysis of privately held U.S. businesses. Nexus has been included in the list for six consecutive years. This year Nexus' strong three-year sales growth, a primary metric in determining the rankings, was 130%.
"The unprecedented organic growth of Nexus this past decade was only possible due to the vision and effort put forth by our employees, customers and strategic partners," said Waheed Choudhry, Nexus President & COO. "The investment we've made in our Cloud and Managed Services offerings has unquestionably contributed to our success and positioned us as a premier provider of these solutions."
This years' Inc. 5000, as in previous years, is filled with highly competitive and highly profitable businesses. The aggregate revenue of companies on the 2014 list is $211 billion, with a three-year growth average of 516%. These companies also generated 505,000 jobs over the past three years, according to the publication. Companies such as Yelp, Pandora, Timberland, Dell, Domino's Pizza, LinkedIn, Zillow, and many other well-known names gained early market exposure as members of the Inc. 500|5000.
"What surprises me, even though I know it's coming, is the sheer variety of the paths our entrepreneurs take to success, thematically reflecting how our economy has evolved," says Inc. President and Editor-In-Chief Eric Schurenberg. "This year there are far more social media and far fewer computer hardware businesses than there were, say, six years ago. But what doesn't change is the fearsome creativity unleashed by American entrepreneurship."
The annual Inc. 5000 event honoring the companies on the list will be held from October 15 through 17, 2014 in Phoenix, AZ. Speakers include some of the greatest entrepreneurs of this and past generations, such as Michael Dell, Martha Stewart, host of the CNBC show "The Profit" Marcus Lemonis, Container Store Founder and CEO Kip Tindell, and Chobani Founder and CEO Hamdi Ulukaya.
About Nexus
Nexus leverages its extensive experience and expertise to enable organizations to Connect, Collaborate and Create by providing end-to-end technology solutions based on six distinct, yet complementary, practices: Collaboration, Data Center, Borderless Networks, Managed Services, Cloud and Business Video. Nexus partners with industry leaders including, Cisco, EMC, NetApp, VMware, Citrix, Microsoft and NEC, to provide the most comprehensive and competitive solutions to clients. Nexus serves the private sector, from small business to the Fortune 500; and the public sector including local, state, and federal government. Additionally, Nexus has highly specialized vertical market practices including GovEd, Healthcare and retail, where it has developed proprietary applications that turn unified communication into clinical workflow solutions. Nexus is a Dimension Data company.
More about Inc. and the Inc. 500|5000
Methodology
The 2014 Inc. 5000 is ranked according to percentage revenue growth when comparing 2010 to 2013. To qualify, companies must have been founded and generating revenue by March 31, 2010. They had to be U.S.-based, privately held, for profit, and independent--not subsidiaries or divisions of other companies--as of December 31, 2013. (Since then, a number of companies on the list have gone public or been acquired.) The minimum revenue required for 2010 is $100,000; the minimum for 2013 is $2 million. As always, Inc. reserves the right to decline applicants for subjective reasons. Companies on the Inc. 500 are featured in Inc.'s September issue. They represent the top tier of the Inc. 5000, which can be found at http://www.inc.com/5000.
About Inc. and the Inc. 5000
Founded in 1979 and acquired in 2005 by Mansueto Ventures, Inc. is the only major brand dedicated exclusively to owners and managers of growing private companies, with the aim to deliver real solutions for today's innovative company builders. Total monthly audience reach for the brand has grown significantly from 2,000,000 in 2010 to over 6,000,000 today. For more information, visit http://www.inc.com/ .
The Inc. 500|5000 is a list of the fastest-growing private companies in the nation. Started in 1982, this prestigious list of the nation's most successful private companies has become the hallmark of entrepreneurial success. The Inc. 5000 Conference & Awards Ceremony is an annual event that celebrates their remarkable achievements. The event also offers informative workshops, celebrated keynote speakers, and evening functions.
For more information on Inc. and the Inc. 5000 Conference, visit http://www.inc.com/.