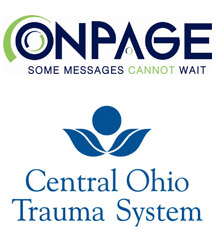 'After only 4 months, the OnPage critical messaging alerts system helped us to decrease our response time significantly.' — Kelsey Blackburn, COTS, Central Ohio Trauma Systems
Waltham, MA (PRWEB) August 25, 2014
Immediate and reliable communications between COTS -- Central Ohio Trauma System and its network of 31 hospitals, emergency responders, and other medical personnel plays a critical role in helping the surrounding community to work together during disasters to reduce injuries and to save lives. The Central Ohio Trauma System's (COTS) mission is to coordinate trauma care, emergency care, and disaster preparedness systems throughout 15 counties in central Ohio.
After months of testing the OnPage® critical alerts system, Kelsey Blackburn, Critical Incident Response Planner for COTS, summed up her evaluation by stating, "It has increased our redundancy, our reliability, and provided a better option and opportunity for our users and stakeholders – and I say stakeholders because we do service so many healthcare organizations and provide support to them." Kelsey Blackburn concluded, "I just think that OnPage is the wave of the future." Here's why:
Back at the beginning of 2014, during the winter, a Polar Vortex covered a significant part of the United States. The emperatures plummeted to record lows in Ohio. The Central Ohio Trauma System (COTS) received numerous requests from central Ohio healthcare agencies for immediate and accurate communications about an evolving medical emergency.
"A water main break occurred in one of our major cities, affecting one of our hospital systems causing the shut down of the entire water supply to the hospital," recalled Kelsey Blackburn. "At that point, the main issue was not that they didn't have power – because they had their own generators – it was because without water they couldn't warm their hospital, because they needed water for their boilers."
The hospital, with over 300 patients, was contemplating evacuation. Other hospitals and patients in the central Ohio region could also be affected.
"During the Polar Vortex, many of our healthcare agencies in our region had specific needs or requests for information," said Kelsey Blackburn. "With only two staff members on rotation and multiple requests, (OnPage®) enabled our partners to send an email to the COTS Healthcare Incident Liaison (HIL) staff, and then receive an email confirmation that we had received it. It allowed them to see that we were in the process of returning calls."
COTS HIL is a conduit for communications -- accurate and timely situational awareness, resource management, and acts as a liaison between the medical community, at the institutional level, county level, regional level and the state level.
"The ability for a healthcare facility or individual to communicate with the HIL via the paging system through email communication, rather than phone communication, was imperative," stated Kelsey Blackburn. "For us to have documentation through the email paging system provided a crucial asset during this emergency. The email feature is huge, because with phone communications, sometimes things can be misinterpreted. Going from an antiquated (pager) system to OnPage® alerts has proven itself as invaluable to our operations as the COTS HIL. Communications are quicker, clearer and more precise with the OnPage® system."
Prior to using OnPage® Priority Messaging Alerts System, COTS carried pagers that had to be handed off to personnel. Kelsey Blackburn stated: "We started looking for a new system that was easy to hand off, that had a wide coverage area, because a couple of the staff were not able to receive pager coverage in their area. Our old pager system could only offer us sporadic coverage at best. We were looking for something that we could utilize with our current mobile devices. We wanted to be able to turn it on or off easily (eliminating the logistics of a physical handoff)."
Kelsey Blackburn said, "During a disaster, the ability for our end users to provide information directly in the paging message makes for an efficient response to our stakeholders… Having a reliable messaging system to allow healthcare agencies to contact us anywhere and anytime expands our contact capabilities."
"With the antiquated pagers (that we used in the past), there were huge delays some days. One pager would get the page, and 2-3 hours later the other pager would get the page. Because the second person that got the page may not have realized that the page had been answered two hours prior, it caused confusion," Kelsey Blackburn recalled. "The pager wasn't a reliable service. Now with OnPage® alerts the two individuals get the page simultaneously."
The Polar Vortex medical emergency had passed. Other hospitals in the central Ohio region were unaffected by the water main break. Kelsey Blackburn and other COTS staff experienced the benefits of OnPage® priority messaging alerts system for keeping updated with accurate, immediate, and verifiable communications during a disaster, trauma, or emergency.