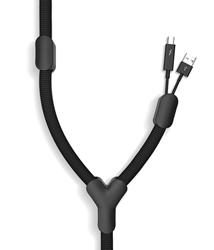 Soba is a clean and simple way to bundle and route cables to keep the spaces behind the computer or TV neat and tidy.
Pasadena, California (PRWEB) August 26, 2014
Tackling those cables making a mess behind the computer or TV does not have to be an ordeal; Bluelounge today introduces a system to help consumers take control of their cable mess with ease and efficiency. Soba zips loose cables up and consolidates them into a single tube that can be routed and affixed along walls, under desks—anywhere multiple cables exist—to help tidy up.
"Cable management can feel like quite an undertaking, but it doesn't have to be such a task," said Dominic Symons, Creative Director and Founder of Bluelounge. "Soba is designed to be an easy way to zip cables up and get them out of the way for tidier spaces."
The Vortex zipper included with each Soba system twists onto the tube—and with a sliding motion—opens and routes cables. Once the zipper passes, Vortex technology automatically closes the tube behind it, bundling the cables inside. Adhesive mounting caps, included with the system, can then be used to stick the tube in place and keep things neat and orderly.
Soba can accommodate large or small cables—up to three cables at once. The system comes with 10 feet of Vortex tube, 2 end caps, 3 mounting caps, 1 y-split, 1 Vortex zipper tool and 5 rubber bands.
Soba is available in black or white at a suggested retail price of $24.95. Bluelounge products are currently available online and at select retailers worldwide. To find a retailer nearby, please visit our store locator.
For more information on Soba, visit http://www.bluelounge.com/products/soba/.
Follow Bluelounge on Twitter at twitter.com/bluelounge and on Facebook at facebook.com/bluelounge for the latest news on all Bluelounge products.
About Bluelounge
Bluelounge is an award-winning, international design studio known for its clever products that solve everyday problems through design.
Under the creative direction of Dominic Symons, the Bluelounge team is a vibrant collective that champions ingenuity and embraces creativity to fuel innovation.
Bluelounge is headquartered in Singapore, with studios in Jakarta, Indonesia and Pasadena, California.
# # #
Note to reporters: High-res images are available here: http://www.bluelounge.com/media
Media Contact:
Kaitlin McIntyre Hawk
Bluelounge
P | 626.564.2802 ext. 706
kaitlin(at)bluelounge(dot)com