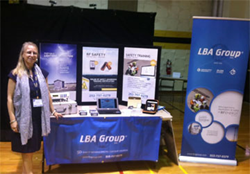 LBA was honored to be among only 100 companies selected to represent North Carolina small businesses in this well attended defense industry event.
Greenville, NC (PRWEB) August 25, 2014
LBA Group, Inc. recently participated in a major military defense trade show hosted by U.S. Sens. Richard Burr and Kay Hagan and the North Carolina Military Business Center (NCMBC). LBA Group was selected and invited to participate as a growing minority small business by a committee of representatives from NCMBC and other business and public entities. The 13th Annual NC Defense & Economic Development Trade Show was held August 5, 2014 just off base from Fort Bragg. It provided a special opportunity for growing North Carolina companies to network with major defense contractors and department of defense buyers. The event attracted more than 800 members of the defense community, economic development officials, and high ranking members of the military.
LBA Group showcased key products and services at the event. Two LBA product marketing and safety training units were represented. LBA Technology's Business Development Specialist, Byron Johnson and LBA University's Marketing Coordinator, Stacey Moore interacted with attendees and business developers.
LBA Technology presented its Safe One® personal RF safety monitors, which are widely adopted by the cellular industry, military and government sectors to ensure that workers are aware of hazardous levels of RF energy. Its unique PLP-38PK portable lightning mast kit was erected and demonstrated for attendees. The PLP-Series lighting masts are increasingly being fielded for critical military mobile system lightning protection. Its TE3000 Vector RF Impedance Analyzer was also well received by systems developers and maintainers, and represented a range of other radio frequency test and measurement devices offered by LBA.
LBA University offered those attending the show information about its cost effective safety training programs available either online or on-site. LBAU is unique in its broad range of RF safety training options applicable to industrial, construction and operational sectors; offered in both English and Spanish. Widely adopted in the commercial sector, an increasing number of military, government, and defense-related entities also use LBAU safety training.
"It was a very successful exhibition for LBA," Johnson said. "LBA was honored to be among only 100 companies selected to represent North Carolina small businesses in this well attended defense industry event."
For more information about LBA Group and the variety of products and solutions offered by its companies, visit http://www.lbagroup.com., or contact Byron Johnson at 252-757-0279, Byron.johnson@lbagroup.com.
Keep up with what's going on at LBA by following the company on Lbagroup/Facebook.com.
About LBA Group Inc.
LBA Group, Inc. has over 50 years of experience in providing technology and risk management for industrial and telecommunications infrastructure assets. LBA is a multiple INC5000 awardee, and is a minority-owned business that has been honored with Top50 diversity status in North Carolina on three occasions. The group is comprised of LBA Technology, Inc., a leading source and integrator of radio frequency systems, lightning protection, and EMC equipment for broadcast, industrial, and government users worldwide; the professional technical consultancy Lawrence Behr Associates, Inc.; and LBA University, Inc. providing on-site and online professional training. The companies are based in Greenville, N.C., USA.