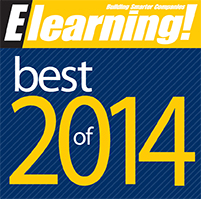 Each of the 89 brands named will receive an award of excellence or winner honors. Given the high volume of votes and the number of nominated products, every one of these solution providers should be proud to be honored for excellence
Corona, CA (PRWEB) August 27, 2014
Elearning! and Government Elearning! magazines, the industry voices of the enterprise learning and workforce technology market, announced today the Best of Elearning! Awards 2014 Finalists. Readers and professionals from both the private and public sector cast more than 3,000 nominations for the best-in-class solutions across 27 product categories. Winners of each category will be revealed in Elearning! and Government Elearning! magazines in December and honored at the Enterprise Learning! Summit on Jan. 15, 2015.
The Best of Elearning! Awards program formalizes the "word-of-mouth" referrals practiced in our industry. Eighty-five percent of professionals have personally recommended a learning solution to a colleague over the past 12 months. And 61 percent agree that award recognition impacts their buying decision, according to Elearning! Media research.
This year, 89 individual products and solutions are being named as finalists — up from 85 in 2013. "Our industry continues to innovate and evolve. We responded by adding the new categories of Mobile Authoring, MOOC, Game Development Solution and Open Source Solution. We are committed to recognizing innovation and user satisfaction across a diverse group of solution providers," reports Jerry Roche, editorial director of the Elearning! Magazine Group.
All 89 brands will be honored for excellence, and the top vote-getter in each category is named the winner. "Each of the 89 brands named will receive an award of excellence or winner honors. Given the high volume of votes and the number of nominated products, every one of these solution providers should be proud to be honored for excellence," adds Catherine Upton, Group Publisher, Elearning! Media Group.
The Voting Process
Readers, practitioners and community members nominate and vote for products and solutions via Elearning! Media Group's online ballot. All ballots were cast between March 15 and May 1, 2014. Each ballot was reviewed and validated by the editorial team. All vendor ballots were voided.
Best of Elearning! Awards Events
Discover what your peers and colleagues say about their solution providers. See who made the cut in 2014. The Best of Elearning! honorees are featured in Elearning! and Government Elearning! magazines' December 2014 editions. "The awards issue is by far the most popular edition of the year. Those seeking world-class solutions go to the Best of Elearning! issue to short-list brands and see what real users say about the solutions," reports Roche.
The Best of Elearning! 2014 Awards ceremony will be conducted at the Enterprise Learning! Summit (ELS) on Jan. 15, 2015. This industry event offers executives the opportunity to network, share and learn about the best learning options and dialogue directly with technologists and learning leaders, all in one place. Attend Best of Elearning! sessions, hear customer stories and share advice on learning architecture at ELS 01.15.15. To learn more about The Best of Elearning! events, contact sales(at)2elearning(dot)com or visit http://www.2elearning.com/events.
The Best of Elearning! Finalists for 2014 are as follows:
Learning & Talent Platforms
1. Best Learning Management System (Cloud/SaaS)
Biz Library LMS
Callidus Cloud Litmos
CSOD Learn Cloud
EDU 2.0 LMS
ePath LMS
SumTotal Maestro
2. Best Learning Management System (Enterprise)
Meridian Knowledge Solutions Global LMS
Saba Learning@work
SumTotal Learn
3. Best Learning Content Management System
IBM Kenxa LCMS
OnPoint Digital LCMS
Xyleme LCMS
4. Best MOOC
coursera coursera
edx edx
udacity Udacity
5.Best Talent Management System
Cornerstone On Demand Performance
Halogen Talent Space
HRSmart Unified TM Suite
Kallidus Talent Mgt
6. Best HR Technology Solution
Infor HCM
Oracle HCM
Workday HCM
7. Best Open-Source Solutions
Forma LMS
Docebo LMS
Moodle Moodle
8.Best Web Seminar
Citrix GoToMeeting
Cisco Webex Meeting Ctr
9.Best Virtual Classroom
Adobe Connect Pro
Cisco WebEx Training Ctr
Citrix Online GoToTraining
10. Best Virtual Learning Environment
Intercall Virtual Event Platform
INXPO Virtual Learning Env
On24 Virtual Env
CONTENT
11. Best IT Content
Lynda.com Web Training
Skillsoft IT Certification
Udemy Udemy
12. Best Leadership Content
Cognician Leadership Accelerator
PPD PPD Lean Six Sigma
SkillSoft Leadership Advantage
13. Best Soft-Skills Content
BizLibrary The Collection
Cegos E-learning catalog
ej4 Business Skills Bundle
SkillSoft Business Skills Catalog
14. Best Compliance Training
Global Learning Systems Awareness Training
J. J. Keller Construction Safety eCourses
VuBiz Compliance Library
15.Best Sales Training
CloudCoaching International Pathways to Growth
ej4 Sales Curriculum
Kensei Partners BASHO Sales Training
Richardson Sales Performance System
Tools
16. Best E-learning Development Tool
Articulate Storyline
Articulate Studio
DominKnow Claro
iSpring Presenter
17. Best Simulation
Adobe Captivate
Mzinga Firefly
Skilitics Interact
18. Best Game Development Solution
Mlevel Mlevel
Scirra Construct2
Trivie Trivie Enterprise
19. Best Video Capture
Articulate Replay
Tech Smith Camtasia
TechSmith SnagIt
20. Best Video Publishing Solutions
Adobe Premiere
GoAnimate GoAnimate
Sonic Foundry Mediasite
Wisetail Wisetail
21. Best Testing & Assessment Solution
Articulate Quizmaker
iSpring Solutions QuizMaker
ProProfs Quiz Maker
22. Best Social Learning
BizLibrary Community
Microsoft Yammer
Triple Creek River
23. Best Mobile Authoring
Brainshark Slideshark
OnPoint Digital Cellcast
Travitor Travitor Pro
24. Best Presentation Tool
Articulate Presenter
Brainshark On-demand
Microsoft PPT
Prezi Prezi
25. Best Mobile App
Articulate Mobile Player
BizLibrary BizMobile
Evernote Evernote
26. Best Translation & Localization Svcs
Milengo Translation Svcs
Transperfect Transperfect
Robertson Languages International Translation Svcs
27. Best Learning Services
GP Strategies Mgd Learning Svcs
Knowledge Advisors Measurement Consultg
Skillsoft Professional Svcs
About Elearning! Media Group
Elearning! Media Group serves the $220 billion enterprise learning market. Elearning! Media Group, owned by B2B Media Group, LLC, consists of 13 media products including: Elearning! agazine, Government Elearning! magazine, e-magazines, e-mail newsletters, Alerts, website, Web Seminar Series, Elearning! Institute, Enterprise Learning! Summits and Enterprise Learning! Conference & Expo. In combination, these brands reach more than 2 million executives, practitioners and professionals, all evaluating or implementing enterprise learning and workplace technologies across their organizations each year. Suppliers and practitioners can follow us: online at http://www.2elearning.com; on Twitter: 2elearning, #ELC14, #ELSummit; via Facebook: Elearning!-Magazine; and, LinkedIn: Elearning! Magazine Network or Enterprise Learning! Events.
About Enterprise Learning! Events
Since 2008, Enterprise Learning! Events bring onsite and online audiences together to learn, network and share. Mark your calendar for Enterprise Learning! Summits on 01.15.15, 04.15.15, and 10.15.15. And, Enterprise Learning! Conference on 08.31.15 to 09.02.15. For more information about the Enterprise Learning! Events, visit: http://www.2elearning.com/events