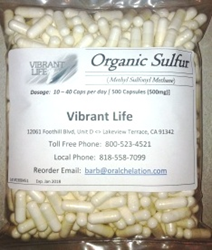 The benefits of organic sulfur (MSM) focus on the muscles, skin and bones, but it can also benefit other areas of the body. Sulfur is necessary to help proteins keep their shape, which is important to their functions within the body.
Sylmar, California (PRWEB) August 25, 2014
Vibrant Life Supplements is pleased to announce their new line of organic sulfur products, which are proven to help enhance overall health. Sulfur is the third most abundant mineral in the body and needs to be regularly replaced. Vibrant Life's new organic sulfur supplements make it easy to get the sulfur an active body needs.
Organic sulfur (MSM) benefits the muscles, skin and bones, along with other areas of the body. As the body ages, the natural amounts of MSM begin to decline. This means many people can benefit from taking organic sulfur supplements as they get older. The new supplement line available from Vibrant Life Supplements contains the proper amounts of the mineral so individuals can enjoy the many benefits of MSM.
According to Vibrant Life Supplements owner Clifford Woods, "Taking the proper amount of sulfur as part of your daily vitamin and mineral intake will help your body perform the way it was intended." For instance, many people choose to take MSM for hair growth. Some of the other benefits of this acclaimed natural supplement include increased flexibility, improved blood flow, reduction in joint inflammation, elimination of free radicals, increased oxygenation, fewer wrinkles and more. This supplement has also been used as part of a medical treatment plan for Parkinson's disease and Alzheimer's disease. This new sulfur product line available from Vibrant Life Supplements is designed to provide the sufficient amounts of this important element to ensure proper body function, especially during the elder years.
Vibrant Life Supplements offers MSM in a variety of forms, making it easy for their customers to purchase the exact product they need. Sulfur is available in a one pound jar, 500 count bags of 500 mg capsules, 2.2 pound bags of sulfur powder and 2.2 pound bags of enhanced sulfur powder. Their goal is to provide each of their customers with the best sulfur products to obtain all the benefits of organic sulfur.
Anyone who wants more information about taking the right supplements or the benefits of organic sulfur can visit the Vibrant Life Supplements website or call 1-800-523-4521.
About Vibrant Life Supplements: Vibrant Life Supplements is a vitamin supplement company with more than 30 years of experience providing customers with the health products they need to improve their quality of life. Through scientific research, every product has been developed to provide individuals with the right combination of vitamins and minerals. Vibrant Life Supplements takes great pride in offering the highest quality products for important vitamin and mineral needs.
Company: Vibrant Life Supplements
Address: PO Box 920963
City: Sylmar
State: CA
Zip code: 91392
Toll-free number: 1-800-523-4521
Telephone number: 1-818-558-7099