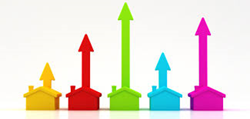 Building Permits rose 8.1%in July which was much better than the -4.2% decline seen in June.
(PRWEB) August 23, 2014
This week in housing was truly filled with more positive data points than lenders such as Peoples Home Equity could count. As shown on TradingEconomics.com, all of the following data points out performed market expectations in their announcements this week: the NAHB's Housing Market Index, the U.S. Census Bureau's Building Permits & Housing Starts, the MBA's Weekly Mortgage Application Survey, and the National Association of Realtor's Existing home sales. Essentially, this may have been the best week in housing data points seen in the entire year!
The week began on Monday, August 18th, with National Association of Home Builders releasing their Housing Market Index. The index is based on a range of questions directed to home builders about their sentiment of the housing market for the next 6 months. Sentiment may range from 0-100, since inception sentiment has ranged from as low as 8.0 to 78.0. Monday's announcement for August was a reading of 55 which is the second highest recorded for 2014 (January was recorded at 56). This marked the 3rd consecutive rise in the Housing Market Index since it was recorded at an annual low in May at 45. The reading of 55 not only surpassed the previous months reading of 53 but also rose above the market forecast of 51.
After beginning the week on a positive note, on Tuesday, August 19th, the U.S Census Bureau released their building permits and housing starts figures. Building Permits rose 8.1%in July which was much better than the -4.2% decline seen in June. Housing starts rose 15.7% vs. -4.0% seen during June. The numbers for both building permits at 1.052 million and housing starts at 1.093 million were higher than the market consensus of 1.0 million 0.969 million.
On Wednesday, August 20th, the Mortgage Bankers Association (MBA) released their weekly home applications numbers which rose 1.4%; this was higher than the expected -0.14%. In addition, the MBA said that 30-year mortgage rates declined to 4.29 % from 4.35% the week prior which is attractive for home buyers.
On Thursday, August 21st, the National Association of Realtors announce existing home sales at an annual pace of 5.15 million, beating the market consensus of 5.02 million and rising for the 4th consecutive month. Also on Thursday was DQnews.com's weekly "National Home Sales Snapshot" which showed that both weekly home sales and median home sale prices rose 1.6% and 0.5%.
All in all, the market was just amazed at how well housing data was reported. U.S real estate is definitely on the road to recovery and Peoples Home Equity is here every step of the way to get as many American's approved for a loan as possible. If you're in need of a mortgage, feel free to contact a Peoples Home Equity loan officer today at: 262-563-4026.