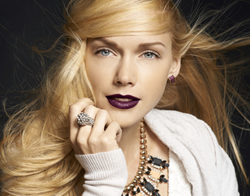 Wantable welcomes DARKSIDE, Liberty Republic's newest collection of SPELLBOUND Nail Lacquers, which are available exclusively in our September Makeup Collection.
Milwaukee, WI (PRWEB) August 24, 2014
Wantable, Inc., a leading discovery service for makeup, accessories and intimates, announces its September Collection. The September Makeup Collection welcomes MUD Make-Up Designory and features new products from Ofra Cosmetics, Geri G. Cosmetics, and Liberty Republic. September's Intimates Collection features newcomer Bootights along with Yummie by Heather Thomson, REAL Underwear, and Honeydew Intimates. The Accessory Collection welcomes Cate & Chloe.
The September Makeup Collection features bold looks this season. For sexy smoky eyes, we have pressed shadows from professional favorite, MUD Make-Up Designory and mineral shadows from the Australian brand, MARSK. Wantable is also carrying Cattiva Cosmetics' Precisione Eye Liner and GrandeLASH-MD's mascara. For both bold lips, we have Geri G.'s beautiful and nourishing Lip Gloss Crèmes and Vincent Longo's Lip & Cheek Gel Stain.
Wantable is excited to welcome DARKSIDE, Liberty Republic's newest collection of SPELLBOUND Nail Lacquers, which are available exclusively in our September Makeup Collection. Liberty Republic is exploring darker themes this fall and has a refreshed look featuring a more angular bottle and a glossy white cap. The six shades in this new collection are Voodoo: a vampy dark red; Aura: a candle-lit peach; Medallion: rose-tinged molten silver; Catalyst: indigo with a ultraviolet sheen; Premonition: an opaque black teal; and Legend: a metallic liquid emerald. Also new and exclusive to Wantable is the Eternal Gel Topcoat. This UV-free gel topcoat extends wear an average of 7 days. All of the SPELLBOUND Nail Lacquers are 5-free, vegan, and cruelty free, quick drying, and last an average of 7-14 days.
September's Accessory Collection features pieces with a darker edge. Distressed metals, bold jewel tones, and loads of geometric shapes are abundant throughout our collection. Featured brand Cate & Chloe has some amazing pieces with clean lines and designer inspiration.
The Intimates Collection features sexy lace and comfortable cotton. Wantable introduces Bootights, which combines boot-friendly socks and fashion forward tights for the perfect combination of comfort and style. September is shaping up with innovative shapewear from Waist Watcher and also features camis and tanks from Yummie by Heather Thomson. Finally, Wantable has beautiful panties and soft bras from Real Underwear and new styles from Honeydew Intimates.
Wantable, Inc.'s September Collections will be available online at http://www.wantable.com from August 24 to September 23.
About Wantable, Inc.
Wantable offers a personal shopping service online, delivering hand-picked assortments of specialty products to busy women on a reoccurring basis.
Each month, in-house and guest curators hand-pick beauty, fashion accessories, and intimate apparel from hundreds of quality boutique, specialty, and premium vendors to ensure that each collection is filled with the best on-trend items every month. Wantable boxes are available for $40 each or customers can sign up for a monthly subscription for $36/month.
Wantable, Inc. boasts 23 full time employees working in Milwaukee's Third Ward including Jalem Getz, founder and president. Prior to Wantable, Inc., Mr. Getz founded BuySeasons, Inc. in 1999, and served as President and CEO until December 2010. BuySeasons is the largest online retailer and supplier of costumes and party supplies. Prior to starting BuySeasons, Getz co-founded specialty retail company, GMI in 1995. GMI quickly became one of Wisconsin's fastest growing companies and the largest seasonal retailer in Milwaukee.