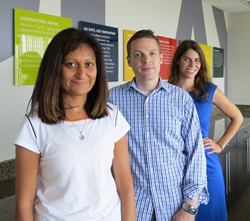 Troy, MI (PRWEB) August 26, 2014
Billhighway, provider of cloud-based automation solutions for nonprofits, announces a promotion and two new hires as part of its continuously growing product development team. Jill Garrity, Max Schmidt, and Suzy ElFishawy are helping fuel the company's recent success in bringing on multiple new clients.
Previously in the role of Business Analyst, Jill Garrity has been named Software Development Lifecycle Champion (SDLC). In this position, she will concentrate on product domain knowledge, quality and velocity. Garrity is a graduate of Michigan Technological University and worked at Team Detroit and Deloitte before joining Billhighway in 2012.
"A core tenet of Billhighway's culture is continuous improvement. The SDLC role is a building block to the larger vision of constant focus on product development and speed to market," said Bob Anzivino, Billhighway's Chief Technology Officer. "Jill will leverage new tooling, processes, and provide thought leadership and mentoring throughout our business."
Max Schmidt, who has consulted for Billhighway for two years as a systems developer, has officially been brought on board as Senior Developer. He led the development of the company's proprietary Raisers Edge® plug-in for nonprofit donation processing and integration. Schmidt has 14 years of professional experience in automotive and military manufacturing, complemented by concentrated technology experience.
Suzy ElFishawy brings 20 years of experience in web-based and client-server systems to the role of Senior Developer. ElFishawy will be responsible for designing, coding, and supporting leading-edge financial management web and mobile applications. Prior to joining Billhighway, ElFishawy was Senior Software Engineer/Team Lead at Plex Systems in Troy, Michigan. She has received multiple awards, including the CMMI Level 5 Achievement Award, the Personal Software Process (PSP) Achievement Award, and Northrop Grumman's Special Achievement Award.
About Billhighway (http://www.billhighway.co)
Billhighway, headquartered in Troy, Michigan, develops cloud-based automation software that makes nonprofit financial management easier. Since 1999, we've helped our clients free up internal resources and focus more time on mission by increasing revenue, cash flow and the bottom line. Through a robust, rules-based engine that integrates payment processing, banking and accounting with existing systems, Billhighway provides a transparent, holistic view of your organization's finances so you can work smarter, not harder. Billhighway is recognized for award-winning customer service and industry-leading data security.