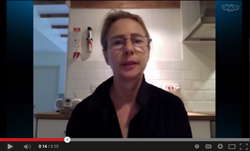 'Several years ago, one of my closest friends, was diagnosed with mesothelioma,' says Ms. Shriver in the video. 'Her experience of living with the disease, and ultimately dying from it, moved me to write my tenth novel, 'So Much for That.''
Alexandria, VA (PRWEB) August 25, 2014
The Mesothelioma Applied Research Foundation (Meso Foundation) released today a video of award-winning author, Lionel Shriver, in which Ms. Shriver urges viewers to observe September 26th as Mesothelioma Awareness Day. The video can be watched on the Meso Foundation's YouTube channel.
"Several years ago, one of my closest friends, was diagnosed with mesothelioma," says Ms. Shriver in the video. "Her experience of living with the disease, and ultimately dying from it, moved me to write my tenth novel, 'So Much for That.'"
"So Much for That" is a novel that tackles the complicated topic of healthcare in the United States, through the experience of a mesothelioma patient and her family.
In the video, viewers are urged to visit the organization's website, curemeso.org, to learn more about Mesothelioma Awareness Day.
Ms. Shriver is best known as the author of the award-winning novel "We Need to Talk About Kevin," and "Big Brother."
Mesothelioma Awareness Day is a grassroots movement established in 2004 by volunteers of the Meso Foundation with the goal of bringing more attention and funding to this historically-neglected cancer.
"On behalf of the mesothelioma community, I am infinitely grateful to Ms. Shriver for her help in raising awareness," said nurse practitioner and executive director of the Mesothelioma Applied Research Foundation, Mary Hesdorffer.
"More awareness of this disease and the consequent increased funding for research, education, support, and advocacy is exactly what is needed to help us save lives," added Ms. Hesdorffer.
Mesothelioma is a malignant tumor of the lining of the lung, abdomen, or heart known to be caused by exposure to asbestos. With the life expectancy of less than one year after diagnosis, medical experts consider it one of the most aggressive and deadly of all cancers. An estimated one-third of those who develop mesothelioma were exposed while serving in the Navy or working in shipyards. Currently, few treatment options exist. There is no cure.
ABOUT THE MESOTHELIOMA APPLIED RESEARCH FOUNDATION
The Meso Foundation is the only 501(c)(3) nonprofit organization dedicated to eradicating mesothelioma and easing the suffering caused by this cancer. The Meso Foundation actively seeks philanthropic support to fund mesothelioma research; provide patient support services and education; and advocate Congress for increased federal funding for mesothelioma research. The Meso Foundation is the only non-government funder of peer-reviewed scientific research to develop life-saving treatments for this extremely aggressive cancer. To date, the Foundation has awarded over $8.7 million to research. More information is available at http://www.curemeso.org.
###