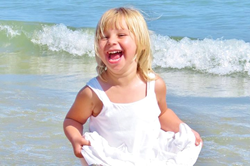 I felt so honored you chose this photo.
Carmel, New York (PRWEB) August 26, 2014
Eastern Jungle Gym, a leading provider of wooden swing sets for more than 22 years, is excited to announce the winner of its "Summertime Fun" photo contest.
Michelle Morris of Fond du Lac, Wisconsin submitted the winning picture, which showed her four-year-old daughter Sophie enjoying a day of family fun at the shore on Lake Michigan.
"I felt so honored you chose this photo," Michelle told Eastern Jungle Gym in an email. "My daughter Sophie is four and people are always saying how she is always smiling, so capturing her joy that day as she splashed on our favorite beach was so precious."
Sophie's mother, older sister and grandmother were there, too. The day was extra special because that particular beach and pier are the source of many happy memories for the whole family.
"It is our special place and I love seeing my kids enjoy it just as much as I always did," Michelle said.
Dozens of great photos--showing youngsters zooming down water slides, hanging from monkey bars, drinking slushies, visiting great-grandma after a cross-country drive, splashing in the pool and much more--were submitted for the month-long contest, which ended Aug. 20. Entrees came from all over the country. They were posted to the Eastern Jungle Gym Facebook page. The prize was a $50 American Express gift card.
Eastern Jungle Gym and its retail division, Best in Backyards, routinely hold online giveaways and contests. Past prizes have included swing sets, trampolines and store gift certificates.
--
About Eastern Jungle Gym
Established in 1992, Eastern Jungle Gym is the number-one manufacturer of high-quality, wooden cedar swing sets and playsets. Retailers are located in several states, as well as in parts of Canada. Best in Backyards, Eastern Jungle Gym's retail branch, launched a few years ago. With six stores in Connecticut and New York, Best in Backyards sells backyard playgrounds, storage sheds, trampolines, outdoor kitchens, pergolas, pavilions and much more.