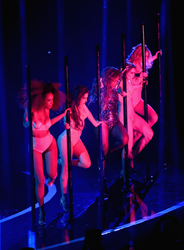 Beyoncé exemplifies women's might, and Dawnamatrix endeavors to express this same power in all of our fashions.
Los Angeles, CA (PRWEB) August 25, 2014
In what's being heralded as a show-ending stunner, pop superstar Beyoncé and her crew of dancers brought the 2014 MTV Video Music Awards crowd to its feet last night at the L.A. Forum. In a non-stop nearly twenty minute performance Jay Z's wife commanded the stage amongst her coed crew of dancers, many of whom were dressed by Boston latex design house Dawnamatrix.
The shiny latex road from Boston to L.A. began when Beyoncé's stylist Marni Serofonte spied a high-waisted Dawnamatrix panty girdle Linda Evangelista wore for an Andrew Richardson shoot. Dawnamatrix has always ventured to showcase women's strength and individuality through their bold and sensual designs, making them a perfect fit for iconic divas.
Serofonte called Dawnamatrix and ordered 68 garments in total for the Beyoncé's VMA outing, including garter belts and stockings, vintage bra and panty girdle sets, all made of high grade latex. Having previously been commissioned by Covergirl to make pieces for Pink and Katy Perry, Dawnamatrix is no stranger to working with pop stars or supplying outfits and accessories to award shows. This order for Beyoncé's performance was the culmination of five years of hard work the Boston-based alternate fashion company has been putting into their brand. As Dawn Mostow, CEO and head designer of Dawnamatrix says: "I was thrilled and honored to be asked to provide designs for the performance. Beyoncé exemplifies women's might, and Dawnamatrix endeavors to express this same power in all of our fashions."
Before receiving MTV's Michael Jackson Video Vanguard award, Beyoncé and her dancers performed an end-of-show medley of songs from her latest self-titled release. During the song "Partition" and then the spoken-word moment that followed it Dawnamatrix's nude bra and high-waisted panty girdle sets were beautifully featured on the dancers who flanked Miss Bey.
August is a very busy time for Dawnamatrix as Dawn and company typically release their new line at the end of the month. This year the brand's "Space and Time" collection is launching over Labor Day Weekend.
Dawn says of her hard-working fashion ethos: "It is my goal to showcase the range of possibilities available when creating garments in latex, and to infuse the designs with self-expression, romance, sensuality, and strength."
Dawn Mostow is a Harvard-educated artist. Her Dawnamatrix line of luxury latex couture and accessories represents a revolution, merging fine art with high fashion. Presenting a full range of wardrobe pieces, Dawnamatrix latex can be ordered in a variety of colors, textures and designs, all hand-crafted to individual client specifications. Living and teaching for many years in Japan as she did, Dawn infuses a strong influence of Asian sensibility in her designs, coming to be known as much by her one-of-a-kind latex kimonos as her unique pieces of both vintage couture and futuristic fashion. Whether fitting a troupe of Beyoncé dancers or a bespoke client, Dawnamatrix is the premier latex design brand.
The Dawnamatrix full range of styles can be found here: Dawnamatrix Latex Fashion.