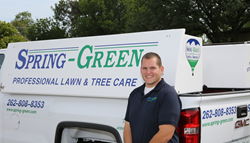 Milwaukee, WI (PRWEB) August 27, 2014
Mike Valestin has been a small business owner for the past seven years. His business, Valestin Landscape Design Company, offers customized landscaping designs and installations throughout such cities as Mequon, Thiensville, Cedarburg, Grafton, Brookfield, Germantown, Whitefish Bay, Glendale, Bayside, Fox Point, Shorewood and more. When Mike saw an opportunity to not only grow his business, but expand his services, he turned to Spring-Green Lawn Care to provide him with the advantage, training, and guidance to succeed in an ever-changing and competitive market.
While Valestin Landscaping already offers a wide array of services, lawn fertilization has always been an area which Valestin has aimed to increase. "It was the overall opportunity that initially attracted me to Spring-Green," said Valestin. "Once I learned about the marketing programs and the ongoing support, I was convinced adding a Spring-Green franchise was the best growth opportunity for my business."
Mike Valestin has been in the landscaping business his entire professional life and has been able to channel his passion for the outdoors into his own enterprise. By aligning himself with Spring-Green, Valestin now has access to the benefits of becoming a Spring-Green Lawn Care franchise operator, such as: Support and training programs, marketing initiatives, and revenue and retirement planning. Valestin hopes that with the addition of Spring-Green Lawn Care, he will be able to provide a service that no one else can match.
"With the addition of Spring-Green Lawn Care, I now have the ability to expand my offering to existing and future clients," Valestin says. "Spring-Green also provides me with a support network with over 37 years of experience in the lawn and tree care services industry."