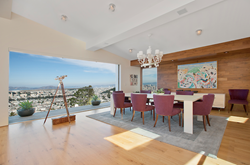 There is a lot being written right now about how much San Francisco's character is changing.
San Francisco, California (PRWEB) August 28, 2014
"San Francisco as a city and community is experiencing fundamental changes, and that is reflected not only in San Francisco housing prices, but the San Francisco housing market as a whole," says Ruth Krishnan, top San Francisco real estate agent. "What I mean is that as the demographics of people who can afford our real estate change, the neighborhoods they love — and the prices of those neighborhoods — shift dramatically."
According to the July 2014 San Francisco real estate report posted on Krishnan's real estate blog, "20 years ago, 'San Francisco luxury home' referred to real estate in the northern band of old-prestige neighborhoods running from Sea Cliff/Lake Street/Jordan Park through the Pacific Heights/Marina district, to Russian, Nob & Telegraph Hills (plus a few smaller enclaves like St. Francis Wood and Ashbury Heights)."
While those neighborhoods, with their large and traditional homes, still dominate the ultra high end, the report states, "Other districts have developed footprints in the luxury market due to changing tastes and demographics, to the high-tech boom creating new centers of gravity for wealth (and changing commuting patterns), and to the formation of entirely new SF neighborhoods."
Which neighborhoods are most affected? "The general Noe, Eureka and Cole Valley district (much of which was originally blue-collar neighborhoods) is now one of the most sought-after areas of the city, and its prices have blown through the roof - more houses over $2 million now sell here than in all the prestige northern neighborhoods combined," the report states.
"I find," says Krishnan, "that my buyers looking in these neighborhoods want something different than what they will find in traditional luxury neighborhoods. They love the sun and the proximity to the freeway, but they also want a feeling of diversity. The buyers in Noe and Eureka Valleys love that they often have walkability to neighborhoods with more culture, like the Mission and the Castro. The Mission has more and more high-end restaurants than ever, but it also still has some edginess to it."
In the condo, co-op, and TIC market, the report states that "in the South Beach, Yerba Buena, and Mission Bay area, some of the most expensive condo buildings in the country have risen from a formerly B-class commercial-industrial wasteland. And most recently, new $1,000+ per square foot condo buildings are beginning to pop up in places like the Mission, Hayes Valley, and the Market Street corridor, catering to young, high-tech buyers."
"The buyers I have looking to live in these neighborhoods are different from the buyer in Noe," says Krishnan. "The South Beach buyer often wants a clean, modern building without the fuss of worrying about fixing up an old building. The people attracted to this area love the luxurious feeling of having a doorman and the convenience of package delivery. They aren't as interested in culture, like the Noe buyer is looking for, or what has been typically considered luxurious, like Russian Hill or Pac Heights. What the South Beach buyer has in common with the Noe buyer is desire for proximity to the freeway. That is an important thing for many affluent buyers in this market."
"There is a lot being written right now about how much San Francisco's character is changing, and it is," says Krishnan. "That's what cities do; just like babies, they grow up. I think it's fun and exciting to watch and I feel honored to be a part of it."
Two charts attached show the shifts that have occurred in just the past 7 years.
For the full report, visit http://www.ruthkrishnan.com.
About Ruth Krishnan: Ruth Krishnan is one of the San Francisco housing market's top real estate agents. With a background in design and business, Ruth Krishnan brings an artistic eye and strong negotiation and business skills to the arena of real estate sales. Representing both buyers and sellers, and with a expert knowledge and comfort with San Francisco's unique real estate market, Ruth Krishnan has a long history of satisfied clients and successful transactions. To learn more about Ruth Krishnan's experience as real estate agent, to get free advice about the San Francisco housing market and San Francisco housing prices, or to request an interview contact her at info(at)ruthkrishnan(dot)com.