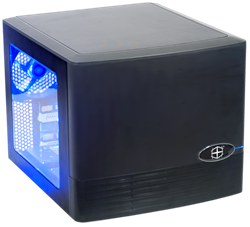 Simply the fastest, most scalable solution in its class. Nothing else is even close.
San Francisco, CA (PRWEB) August 27, 2014
WARP Mechanics is pleased to announce general availability of the industry's leading small form factor storage appliance lineup: the WARP 26200 "Cube" series.
http://warpmech.com/?products=warp-26200
The new offering is affordable and portable. Yet it brings fast, feature-rich, and scalable shared disk and SSD systems to the next level.
Derived from the software and hardware used in the well-established WARP 38000 and 44000 series, the system has the power of a super computing storage layer. But since it is packaged in a lightweight, custom-built, storage-optimized desktop enclosure, it can now reside gracefully at branch locations or in the field.
Under common read intensive media editing configurations, an appliance can approach 1M IOPS: competitive with data center class storage, and vastly faster than all competing systems anywhere near its price range. A single WARP MemoryCube appliance could support the editing work of an entire department at a full scale Hollywood studio.
It also maintains the scalability of other WARP storage. Within the small cube itself, up to 60TB of disk or 40TB of pure SSD can be provisioned. With optional SAS JBODs, it can scale to over 200TB: more storage than most SMB/SME customers have in their entire environments.
In addition to being fast and scalable, these appliances run the complete WARPware Unified Storage stack. It is feature rich – delivering thin provisioning, deduplicaiton, snapshots, replication, and more. Plus, it can run advanced storage applications directly within the array: NFS, SMB, iSCSI or Infiniband SAN, Lustre, Ceph, Hadoop, and Swift, just to name a few.
Once again, WARP Mechanics has set a new standard in the industry: No other small form factor storage system can match the cost, features, density, and performance of the WARP Cube appliance architecture.
If your firm is contemplating a small form factor storage procurement, contact WARP Mechanics today to find out how to buy this and other best-in-class solutions.