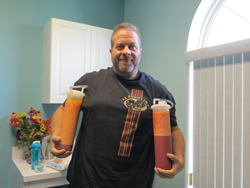 I'm a whole hearted believer that liposuction and MyShape Lipo can make a huge difference.
Las Vegas, NV (PRWEB) August 26, 2014
Who would want to hear about liposuction and fat transfer for a whole hour? Well it turns out there are many interested in the topic. According to the Centers for Disease Control and Prevention (CDC), "more than one-third or 78.6 million of U.S. adults are obese." Non-Hispanic blacks have the highest age-adjusted rates of obesity (47.8%) followed by Hispanics (42.5%), non-Hispanic whites (32.6%), and non-Hispanic Asians (10.8%).
"We didn't create the problem, but as a liposuction specialist I take my job very seriously to help these individuals," says Trevor Schmidt PA-C the owner and Liposuction Specialist at MyShape Lipo. "I've been fortunate to change the lives of countless individuals; it's a great feeling knowing that I'm making a real difference."
The show is a one hour format which is hosted by Harry Jacobs, talk radio personality. In fact, Harry is not just the host, he too has had liposuction at MyShape Lipo. On August 4, 2014, Harry had his full abdomen and waist treated with liposuction and Smart Lipo Laser Skin Tightening.
"It's only been a few weeks and I can already fit into suits that I bought back in 1989," claims Harry. "I'm a whole hearted believer that liposuction and MyShape Lipo can make a huge difference in the lives of those concerned about their weight. I'm living proof and I love it."
At just 3 weeks after his procedure, Harry has not only gotten great results thus far, but seems to have a new motivation to live a healthier lifestyle. He's begun working out at the gym and has had the motivation to stick to his healthy diet. To date, he has lost 15 pounds since his procedure and has noticed significant body shape changes.
"I'm so happy for Harry, he looks great," says Schmidt. "I really enjoy hearing the success stories of my patients, it makes my job so rewarding. His new found motivation is impressive and quite common with my patients following their procedure."
Motivation is one of those things that will inhibit you from accomplishing, but when motivation is present it can lead to limitless possibilities. What is it that get's liposuction patients so motivated after their procedure? That is the basis of their talk show discussing liposuction. Trevor Schmidt PA-C discusses his years of experience performing over 15,000 liposuction procedures and the lives he's changed.
"You never know who is going to get the motivation bug and accomplish great things, but it's sure fun watching it when it happens," says Schmidt. "I've worked on top level athletes, body builders, dancers, models, actors, royalty from Dubai, and each one of them has gained tremendous sense of self confidence following their procedure. There is no reason why it can't help anyone who struggles with self confidence issues."
About MyShape Lipo
Trevor Schmidt PA-C is the owner and Liposuction Specialist at MyShape Lipo, and has performed over 15,000 liposuction procedures. After starting his liposuction career in Beverly Hills, he took his extraordinary liposuction skills to Las Vegas, where they draw patients from around the world seeking their specialty liposuction services and affordable rates. Nearly 70% of their patients fly in from out of state for their procedures. They offer complimentary Body Shape Analysis in person or over the phone with pictures. To schedule your analysis today, call 702-818-5476 or visit them online at http://www.MyShapeLipo.com.