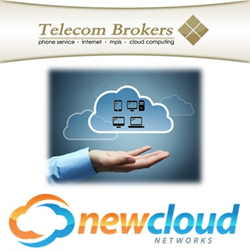 '... I am convinced Telecom Brokers and New Cloud Networks share the same philosophy in how to be successful selling cloud solutions in today's market.' - Nancy Ridge, Vice President,Telecom Brokers
Denver, CO (PRWEB) August 27, 2014
NewCloud Networks, a nationwide Cloud Computing and Communications provider, today announced the addition of Master Agent Telecom Brokers to their Channel Partner Network. The strategic partnership between the companies makes it possible for Telecom Brokers' agent community to offer hybrid cloud, virtual desktop, backup and disaster recovery, and other IT solutions to their customers across the country.
"Adding New Cloud Networks to the Telecom Brokers portfolio is evidence of our commitment to our agent partners to provide access to companies who are known for both innovation and expertise in delivering cutting-edge products and support. As a result of our thorough and lengthy qualification process, I am convinced Telecom Brokers and New Cloud Networks share the same philosophy in how to be successful selling cloud solutions in today's market," says Nancy Ridge, Vice President of Telecom Brokers.
NewCloud Networks shares similar sentiments about the partnership. Sam V. Kumar, President of NewCloud, stated, "The strategic relationship between NewCloud Networks and Telecom Brokers signifies NewCloud's commitment to offer state-of-the-art cloud services to mid-market businesses via knowledgeable and reliable partners. Our partners are the reason NewCloud continues to expand and continues to be successful across the country. We are looking forward to a long and beneficial partnership with Telecom Brokers."
The companies will officially launch NewCloud's services to the Telecom Brokers channel in October via live webinar. Following which, NewCloud will provide ongoing product and market knowledge webinars to keep agents up to date on the latest technologies and trends in the cloud industry.
Telecom Brokers agents are encouraged to reach out to Rodney Nesbit, Sr. Channel Manager, for inquiries regarding the partnership.
About Telecom Brokers:
Founded in 1998, Telecom Brokers is a full service Master Agency offering Phone Service, Internet, MPLS, Cloud Computing, and other services to businesses across the country. Telecom Brokers' extensive list of service offerings includes over 60 carriers providing Phone Service, Internet, MPLS, cloud computing and other communication related products to businesses across the country.
About NewCloud Networks:
Founded in 1988, NewCloud Networks is a nationwide cloud computing and communications Provider. NewCloud specializes in the deployment of hybrid cloud services, backup and disaster recovery, virtual desktops and hosted PBX to mid-sized and small enterprise businesses. NewCloud's data centers in Denver and Phoenix are powered by VMware and connected by a 10 Gbps MPLS backbone for maximum performance and security.