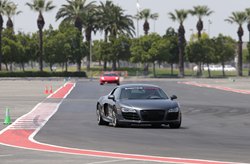 Our loyal Southern California fan base asked us to open on Sundays
Las Vegas, Nevada (PRWEB) August 26, 2014
Starting September 1st 2014, the Exotics Racing supercar driving experience at the Auto Club Speedway in Fontana, CA, will be moving to Sundays. This move is being made at the request of our loyal Southern California fan base who has expressed their interest in being able to enjoy our 1.2-mile racetrack on a more convenient day of the week.
With the move to Sunday, Exotics Racing will be expanding its fleet of exotic cars to include the Ferrari 458 Italia, Ferrari F430, Lamborghini Gallardo, Lamborghini Superleggera, Porsche Cayman R, Porsche 911 Turbo, Audi R8 and the Nissan GT-R. Fans will still be able to enjoy our drift-car Ride Along experience in the Corvette Z06!
Exotics Racing will also be adding the Porsche 991 GT3 to the California fleet. The Porsche GT3 was named the 2014 Performance Car of The Year by the World Car Awards and is the "most exciting new addition to the Exotics Racing Fleet" according to Stephan Legrand, director of Communications at Exotics Racing. "Because of its racing pedigree, the GT3 is already the favorite car of our instructors. Our customers are going to love it". This naturally aspirated flat-six supercar produces 475 horsepower and delivers an astonishing 0-60 time of just 3 seconds flat!
We are excited about our new track day at the Auto Club Speedway and look forward to seeing every one of you at the track.
About Exotics Racing: Founded by French stunt driver and racecar driver Romain Thievin and David Perisset, Exotics Racing brings you the original supercar track driving experience, with the world's largest fleet of exotic cars. Launched in 2009 at Las Vegas Motor Speedway, Exotics Racing has hosted over 130,000 satisfied customers. Guests visit the track from around the world to drive today's most exciting supercars with professional racing instruction on real race tracks in Las Vegas and Los Angeles. The racing school program integrates classroom education, familiarization laps and real-time right seat instruction into one comprehensive, safe and exciting driving experience. Details for the racing school can be found on http://www.exoticsracing.com or by calling (702) 405-7223.
Media Contact:
Josh Martin, Director of Marketing, Exotics Racing; josh(at)exoticsracing(dot)com
Stephan Legrand, Director of Communications, Exotics Racing: stephan(at)exoticsracing(dot)com