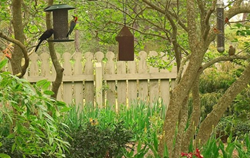 Callaway Gardens is accepting applications from qualified college students for the $1,000* Fred C. Galle Student Scholarship
Pine Mountain, GA (PRWEB) August 28, 2014
For the seventh year, Callaway Gardens is accepting applications from qualified college students for the $1,000* Fred C. Galle Student Scholarship to attend the 29th annual Southern Gardening Symposium (SGS), one of the nation's premier gardening events at beautiful Callaway Gardens.
SGS provides a great opportunity to listen and learn about gardening from an outstanding group of experts, as well as to network with leaders in the horticultural industry who are speaking and attending this event. The scholarship is named for the late Fred C. Galle. Galle, an authority on azaleas and hollies, who served as the Callaway Gardens director of horticulture for many years and was a significant influence in the horticultural development of Callaway Gardens, as well as the horticulture industry.
In 2015, attendees will learn from experts including authors Peter Loewer (Murder in the Garden), Troy Marden (Lessons from 20 Years of Gardening in the South), and Dr. Larry Mellichamp (Natives for Your Garden). These authors will have their books available for sale and will sign autographs throughout the weekend. Other lectures include Ben Page (Creating a Nurturing Garden), Jinni Hernandez (Tried, True and New Annuals), Kurt Straudt (Succulents in Your Garden), Michael Buckman (Gardening for Butterflies) and Dan Long (Clematis).
The complimentary program registration includes Friday's opening reception; Saturday's continental breakfast, programs with printed materials, box lunch and evening banquet; and Sunday's continental breakfast and programs with printed materials. The complimentary lodging will be at the Mountain Creek Inn. Admission to Callaway Gardens also is included. Transportation is at the expense of the recipient.
Applicant must be a full-time student in a college or university. In addition, the student must submit an application, written essay on why attending the program would be personally beneficial and a letter of recommendation from a major professor. The scholarship includes symposium registration and lodging for the student recipient and the major professor of the recipient's choice. Deadline for submission is Dec. 2, 2014. The winner will be notified by Dec. 15, 2014.
The Southern Gardening Symposium is approved for seven contact hours for Georgia Certified Landscape Professional Continuing Education Units.
To receive an application or for additional SGS information, contact the Education Department at 1.800.463.6990 or education@callawaygardens.com. A downloadable application is available at http://www.callawaygardens.com/sgs.
Callaway Gardens® is in Pine Mountain, Ga., 60 minutes southwest of Atlanta and 30 minutes north of Columbus. For additional information, call 1-800-CALLAWAY (225-5292) or visit http://www.callawaygardens.com.
###
*No cash value.
About Callaway Gardens
For more than 60 years, Callaway Gardens has provided "a place of relaxation, inspiration and a better understanding of the living world" for millions of visitors. Owned and operated by the non-profit Ida Cason Callaway Foundation, Callaway Gardens includes a garden, resort, preserve and residential community on 6,500 acres in Pine Mountain, Georgia. Highlights include a butterfly conservatory, horticultural center, discovery center, chapel, inland beach, nature trails, a zip line/obstacle course and special events throughout the year.
In addition, Callaway Gardens offers nearly 80,000 square feet of meeting space, 689 guest rooms, restaurants, shops, golf, tennis, fishing and more.
Five unique, close-knit residential communities — with custom home sites, lakefront properties and cottages on the golf course — offer an ideal home away from home or full-time residence.
Callaway Gardens is home to a forest preserve which is under conservation easement. This conserved, sustainably-managed land is used for biological studies and environmental education programs.