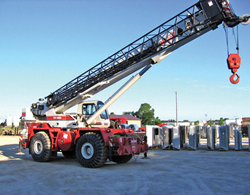 CICB, along with other successful veteran-owned businesses, have found that the experience levels of military veterans are a great asset to their company
Orlando, FL and Houston, TX (PRWEB) August 28, 2014
Crane Inspection & Certification Bureau (CICB) one of the largest and most successful companies to provide training, inspections, certifications and safety services for the crane and material handling industry has added programs and staff including the recent hire of two U.S. Marines. CICB, along with other successful veteran-owned businesses, have found that the experience levels of military veterans are a great asset to their company.
CICB's ten full time Instructors/Inspectors have over 400+ years of combined experience with the U.S. Air Force (Red Horse Unit), U.S. Army, U.S. Navy (Seabees), and U.S. Marines dedicated to the operations, maintenance, and inspections of cranes, rigging and material handling equipment. All of the instructors have experience in safety training and equipment management.
"Our instructors are qualified, certified and nationally accredited for the roles that they are teaching and evaluating or equipment they are inspecting," said Jerry Longtin, General Manager. CICB's Instructor/Inspectors are certified as NCCCO Crane Operators, along with being certified as NCCCO Riggers, Signal Persons, and Crane Inspectors. All of CICB's instructors have been trained, evaluated and certified in Adult Learning Principals as Qualified Trainers by the Bob Pike Institute.
Along with thousands of hours of material handling equipment training and inspections for all branches of the Armed Forces, US Army Corps of Engineers, and NASA, the inspectors have performed hundreds of equipment inspections in Nuclear and Military Facilities. CICB is also the preferred trainer for the ever growing Petrochemical, Airline, and Aerospace Industries across the United States. It is not uncommon to see CICB training operators or inspecting equipment in Asia, Africa, Guam, Europe, Central and South America, Caribbean, Qatar, and Canada.
The goal of CICB's training programs are to lower maintenance costs, increase reliability and life of the equipment, reduce accidents and injuries, increase worker skills, productivity and morale and achieve regulatory, best practice and corporate compliance. CICB, headquartered in Orlando FL since 1969 with a second training facility in Houston TX, offers scheduled training programs at our facilities and at various locations across the U.S. or customized on-site training at your facility.