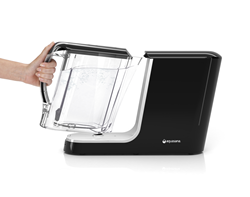 The Powered Water Filtration System has the longest lasting pitcher filter, and offers the lowest cost per gallon on the market
Austin, Texas (PRWEB) August 29, 2014
Aquasana introduces the newest advancement in water filtration, its Powered Water Filtration System (PWFS). Patent pending Powered Filtration Technology never before available in a pitcher, delivers the performance of a professional grade installed filtration system, for a fraction of the price, with no plumbing or installation required.
Traditional pitchers use gravity to slowly trickle water over filter granules. The Aquasana PWFS uses power to filter water fast – right before your eyes. This revolutionary system filters out 10 times the contaminants (60 total) of other pitcher filters and is the only pitcher on the market tested to remove 96% of chlorine and chloramines (chlorine + ammonia disinfectant), lead, mercury, herbicides, pesticides and asbestos.
"We are water connoisseurs at Aquasana, and we guarantee this is the purest water you'll ever taste," said Todd Bartee, Chief Executive Officer for Aquasana and environmental engineer. "Naturally occurring minerals in your water like Calcium, Potassium and Magnesium are retained by our selective Claryum filtration, leaving you with healthier, more delicious water."
The Powered Water Filtration System has the longest lasting pitcher filter, and offers the lowest cost per gallon on the market. Its Claryum filters deliver 8x the gallon capacity of the leading pitcher filter for half the price (320 gallons vs. 40 gallons at 9.4 cents per gallon vs. 20 cents per gallon).
With the Aquasana PWFS, you get:

Faster filtration, more contaminant removal, longer lasting filters for half the price per gallon compared to the leading drip pitcher filter.
All components are BPA free.
Complete System - includes a portable ½ gallon pitcher you can easily fit in your fridge and a one gallon dispenser for on-demand water at the push of a button.
The system includes a "Claryum" filter that will last 320 gallons or 6 months before needing a replacement.
The Aquasana Powered Water Filtration System starts at $129 and is sold online at Aquasana.com.
About Aquasana
Based in Austin, Texas, Aquasana is leading the charge to make high performance water filtration available in every home. Your body is made up of 70% water. Aquasana wants that 70% to be the best water possible. From whole-home filtration to drinking water systems to shower filters, Aquasana has your back and every other part of you covered. Aquasana's leading products remove over 60 harmful contaminants from water including chlorine, chloramines, herbicides, pesticides, industrial solvents, lead, and mercury. Aquasana water filters are engineered to preserve the healthy minerals in water, which include calcium, magnesium and potassium resulting in healthy, great-tasting water. For more information, visit http://www.aquasana.com.