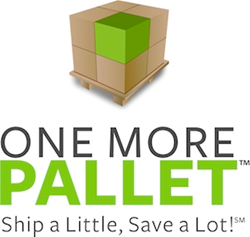 "Our voters selected us for our innovative technology, which levels the playing field for small businesses so they can finally get competitive rates for freight shipping," says Bill Cunningham, founder and CEO of OneMorePallet.
Cincinnati, OH (PRWEB) August 28, 2014
OneMorePallet, a discount, freight shipping website announces it won the Cincinnati Innovates Competition's Community Choice Award for most innovative product. OneMorePallet was selected by community voters from a field of nearly 100 companies in the greater Cincinnati area for its online platform that matches small business shippers to national carriers with unused truck space offered at significantly discounted rates.
"We are honored to receive the people's choice award for our game-changing technology," says Bill Cunningham, CEO and founder of OneMorePallet. "Our platform levels the playing field and enables small businesses to finally get competitive rates for freight shipping, which is traditionally provided only to large businesses with high volume shipping contracts."
OneMorePallet has doubled its shipments from a year ago at this time and plans to continue this growth rate through 2015.
"OneMorePallet developed technology to create a collaborative model that enables small business to save money, and carriers to eliminate wasted space and increase profits," says Jeff Hoffman, co-founder and former CEO of Priceline, one of the first online platforms to capitalize on excess inventory in the hotel industry. "This business model helps create efficiencies in the trucking industry to combat a driver shortage, increase in demand, increase in fuel costs, and the need to reduce emissions."
The Cincinnati Innovates Competition has been a tradition within Greater Cincinnati for the last five years and has helped launch several new companies such as Dondé and Skinny Mom. The competition awards five different prizes to companies with the most innovative ideas or inventions selected by the prize sponsors. The Community Choice Award winner receives a $2,000 cash prize, and is selected by the community through a crowdsourced voting platform developed by Crowdspark.
OneMorePallet is a discount, freight shipping site that helps small businesses reduce shipping costs by filling unused truck space. Our Pallocator™ system instantly matches pallet shipments to national and regional carriers with excess space at significantly discounted rates. The online quoting, ordering and credit card payment process is fast and easy. With more than 32 national, freight carriers in our network representing over 28,000 tractors and 91,000 trailers, OneMorePallet covers 94% of the continental United States. Visit us at http://www.onemorepallet.com or call 855-438-1667.