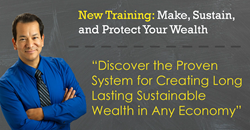 "I realized that people who have wealth do a few key things that help them make sure they're financially secure for the rest of their lives"
Upland, California (PRWEB) August 26, 2014
Serial entrepreneur, Paul Mata, spent the early part of his career learning how to make millions. However, like most people, in 2008 he suffered extreme financial hardship and lost it all. Determined to find a better way, Paul carefully studied the difference between people who have sustainable and long lasting wealth and those who do not. Based on the knowledge he acquired, he was able to use what he learned to not only improve his life and health, but also grow his clients' personal and financial assets while also building his most successful company yet.
"I realized that people who have wealth do a few key things that help them make sure they're financially secure for the rest of their lives," stated Paul Mata. "I would like to invite people to join me for my webinar to learn how they too can invest the ways millionaires do to create long lasting and sustainable income."
In this webinar, people planning for retirement and those who are tired of the rat race will learn:

How to avoid the 3 most common mistakes people make when trying to develop their wealth
The 7 secret asset categories millionaires invest in
Paul's step by step system to help you grow your wealth
The true purpose of investing and what you can do to invest the right way. (Even if your financial planner is doing it wrong!)
How you can make more and pay less tax
How you can start using the Create Indestructible Wealth formula to create a life of big contribution, abundance and personal freedom
Space is limited but participants can register here for this Webinar.
About Logos Lifetime Enterprises
Logos Lifetime Enterprises mission is to help people lead an abundant and prosperous life with a passion to serve others. They help people of all ages and backgrounds lead better lives by helping them make, sustain, and protect their wealth in any economy.
Logos Lifetime University was founded as developed by Paul Mata who has over 20 years of experience working at a Wall Street Firm as a stock broker and managing principal. After creating more than nine successful companies, Mata decided to establish Logos Lifetime Enterprises in 2012 to teach people everything he learned about creating wealth. Author of the book Indestructible Wealth, Mata is the leading expert on creating holistic wealth. Today Mata focuses on helping people create indestructible wealth through his proprietary 12-step wealth creation system that incorporates growing people's financial assets, as well as their mental and physical assets so they can develop a wealth that can never be destroyed.
For more information, visit http://www.CreateIndestructibleWealth.com, like CIW on Facebook and follow CIW on Twitter.