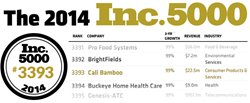 We are humbled by the honor of being named once again this year.
San Diego, CA (PRWEB) August 27, 2014
Cali Bamboo, the leading manufacturer of green building materials for residential and commercial projects, has once again been named one of the fastest growing private companies in America. For the sixth year in a row, Cali Bamboo joins the ranks of companies like Intuit, Zappos, and Microsoft with the prestigious honor. Moving up several spots this year, Cali Bamboo has earned the position of 3,393 on the 2014 Inc. 5000.
In its 33rd year, the Inc. 5000 list is compiled based on a company's percent revenue growth over three years. From 2010 to 2013, Cali Bamboo boasts overall growth of 99%.
"We are humbled by the honor of being named one of America's Fastest Growing Private Companies once again this year," says Cali Bamboo Founder and CEO, Jeff Goldberg. "The consistent growth we've experienced can be attributed to the hard work and dedication of our team, as well as to the growing consumer demand to live a more eco-centric lifestyle without compromising on product availability and quality."
Celebrating its 10 year anniversary this August, Cali Bamboo has grown from a single product and a delivery van in 2004, to multiple national warehouses and dozens of high-quality, sustainable materials including bamboo flooring, reclaimed wood flooring, bamboo fencing, composite decking and more.
For more information on Cali Bamboo, visit http://www.calibamboo.com/ today or call toll free: 1-888-788-2254.
About Cali Bamboo
Headquartered in San Diego, Cali Bamboo manufactures green building materials made primarily of bamboo — one of the world's most durable, sustainable and renewable materials. Founded in 2004, the company has become a model of how individuals, businesses and communities can implement modern design while maintaining structural strength and environmental integrity. Cali Bamboo services residential and commercial building projects across North America with a wide range of products including bamboo flooring, fencing, composite decking, plywood, cork wall tiles, poles, paneling and more.