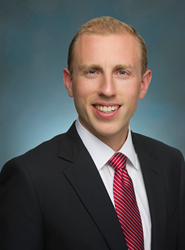 Denver, Colorado (PRWEB) August 26, 2014
Lewis Roca Rothgerber LLP is proud to announce that Dietrich Hoefner has joined the firm's Government and Regulatory Affairs practice. Hoefner is an associate based out of Lewis Roca Rothgerber's Denver office.
Hoefner practices in the areas of environmental and natural resources law, representing clients with interests in the energy and utilities sectors.
His experience includes public utilities law and policy, environmental and natural resources law and litigation. He has worked with state legislators, local and national environmental groups and federal research institutions on a variety of energy and environmental legal matters.
Prior to joining the firm, Hoefner was an Assistant Attorney General Fellow at the Colorado Office of the Attorney General, where he represented the consumer interests in electricity and natural gas matters. He was also a research fellow at the Silicon Flatirons Center for Law, Technology and Entrepreneurship, where he focused on energy regulation.
Hoefner holds a JD from the University of Colorado Law School and an AB in engineering from Lafayette College.
About Lewis Roca Rothgerber LLP
Lewis Roca Rothgerber LLP is one of the largest law firms in the Western U.S. The firm maintains thriving practices in intellectual property, litigation, real estate, business transactions, gaming, banking, bankruptcy and energy and natural resources with more than 250 attorneys across nine offices including Denver, Colorado Springs, Phoenix, Tucson, Albuquerque, Casper, Las Vegas, Reno and Silicon Valley. For additional information, please visit http://www.LRRLaw.com.