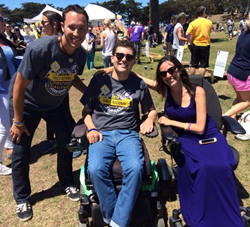 Cambridge, MA (PRWEB) August 26, 2014
The 20 ambassadors representing the ALS Therapy Development Institute's Young Faces of ALS (YFALS) community issued the following statement on Facebook today regarding the global Ice Bucket Challenge movement bringing awareness and driving new funding specifically for ALS research:
"Who would have thought that a bucket of water and some ice would raise all this awareness and funding toward ALS research! We each, together with our families, and on behalf of the entire ALS community, would like to express our deep gratitude to everyone who has accepted the Ice Bucket Challenge so far and encourage people to stay involved in the ultimate challenge to end ALS. Every time a person accepts the Ice Bucket Challenge and posts it on Facebook, Twitter, Instagram or YouTube, you give us new strength and hope. Every donation is moving the needle on important research leading to the development of effective treatments and a cure for ALS. Thank you!"
To see who YFALS Ambassadors have challenged to accept the Ice Bucket Challenge, visit http://www.als.net/icebucketchallenge.
2014 Ambassadors:

Alex Grausnick from Shoreview, MN was diagnosed in 2007 at age 17.
Alyssa Reardon from Plantation, FL was diagnosed in 2006 at age 20.
Anthony Carbajal from Temecula, CA was diagnosed with ALS in 2014 at age 26 with a genetic form of the disease. His mother is also living with ALS.
Beth Hebron from Maplewood, NJ was diagnosed in 2013 at age 25.
Corey Reich from Piedmont, CA was diagnosed in 2007 at age 21.
Ian Hogg, a former US Marine Corps from Birmingham, AL was diagnosed in 2009 at age 26 upon his return from the Iraq War.
Katie Shambo from Merrimack, NH was 13 years old when her father passed away from ALS.
Kelly Hilinski from Sherman Oaks, CA lost his grandmother to ALS when he was 11 years old.
Kevin Swann from Chicago, IL was diagnosed in 2012 at age 30.
Kristen Sauer from Waupun, WI was diagnosed in 2001 at age 24.
Kristin Quinn from McLean, VA has lost several family members to a genetic form of ALS. Her mother currently has ALS, and her brother tested positive with the ALS gene.
Kylee Wiscombe from Boise, ID is a friend of Corey Reich and committed to raise funds and awareness of ALS.
Matthew Bellina, a US Navy Lieutenant Commander (Select) from Skillman, NJ, was diagnosed with ALS in April 2014 at age 30.
Michael Wong from San Francisco, CA is the spitting image of his father, David Peter, who battled ALS for three years and passed away in May 2010.
Patrick Quinn from Yonkers, NY was diagnosed with ALS in 2013 at age 30.
Peter Frates from Beverly, MA was diagnosed with ALS in 2012 at age 27.
Sarah Coglianese from San Francisco, CA was diagnosed in 2012 at age 33.
Sam Ketchum from Newton, MA has a father who is living with ALS. Sam also spent several summers as a research intern at ALS TDI, working alongside scientists developing potential treatments for ALS.
Scott Thomas from Stevensville, MT was diagnosed in 2012 at age 24.
Teresa Thurtle from Las Vegas, NV lost her father and grandmother to ALS.
To learn more about the YFALS community and the 2014 YFALS Ambassadors, please visit http://www.facebook.com/YoungFacesOfALS.
About ALS
Amyotrophic lateral sclerosis (ALS, Lou Gehrig's disease) is a progressive neurodegenerative disease that leads to paralysis, due to the death of motor neurons in the spinal cord and brain. There is no known cure for the disease. About 5,000 people in the US are diagnosed with ALS each year; the incidence is similar to multiple sclerosis. However, with no effective treatment, the average patient survives only 2-5 years following diagnosis. While exact figures are unknown, it is estimated that there are about 30,000 people in the US diagnosed with ALS today. The worldwide population of ALS patients is estimated at 450,000.
About ALS Therapy Development Institute (ALS TDI)
The mission of the ALS Therapy Development Institute (ALS TDI) is to discover and develop effective treatments for ALS patients today as soon as possible. ALS TDI is the world's largest independent ALS/MND drug development-focused nonprofit organization. In addition to more than 30 internal therapeutic aimed programs, the world's first nonprofit biotech partners with dozens of pharmaceutical and biotechnology companies worldwide in order to advance potential treatments into the clinic. Its lead ALS therapeutic candidate, Novartis' (Switzerland) Gilenya (TDI-132), is in Phase 2A clinical trial for ALS. For more information on its drug development programs, visit http://www.als.net.
About ALS TDI's Young Faces of ALS (YFALS)
ALS TDI's Young Faces of ALS (YFALS) program is driven by several ALS patients diagnosed with the disease before or around the age of 30, along with family members and friends of people living with ALS. The young men and women selected to lead the campaign are called "YFALS Ambassadors," and together they participate in awareness campaigns via the YFALS Facebook page, YFALS website, and within their communities. Additionally, these ambassadors hope to encourage greater action to support ongoing drug development at ALS TDI, which has the sole mission to discover and develop effective treatments for ALS patients today.
Media Contact: Mari Cody, ALS TDI, mcody(at)als(dot)net, 617-441-7220