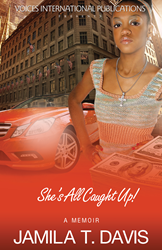 (PRWEB) August 28, 2014
From Behind Bars, Inmate Jamila T. Davis, Former Multimillionaire, Hip Hop Music & Professional Sports Celebrity Advisor, Pens Brutally Honest Cautionary Tale/Memoir, Triggering The Young And Old To Think Twice Before Committing Crimes.
Housed at the Danbury Federal Prison Camp For Women in Danbury, Connecticut (home of the hit television show "Orange Is The New Black"), inmate/activist Jamila T. Davis has used her real-life experiences and heroic candidness to write a series of books which are helping to transform the lives of incarcerated women and has sparked a prison reform movement. Continuing this brazen streak, Davis has penned her first mainstream memoir, She's All Caught Up!
In the late 90's, at the mere age of 19, Jamila T. Davis captivated the inner streets of New York City promoting her company New Beginnings Financial Services. Davis, guised in gaudy diamond jewelry, a full length mink coat and expensive designer clothing, recruited a troupe of attractive women whose job was to drive around the city in various brand new models of Mercedes Benz vehicles, which Jamila provided. Utilizing these women as her sexy sales team on wheels, this savvy, young entrepreneur quickly became a sought after figure by both street hustlers and hip hop artists who utilized her services to finance luxury vehicles.
"In 1996 when I purchased my first new luxury car, a white Lexus GS300 Touring Edition, the course of my life changed immensely. At the time I was a 19 year old customer service representative at the Dime Savings Bank who was hardly known outside of my neighborhood. Yet when I bought this car which in my area only the rapper Jay-Z and music executive Irv Gotti had at the time, my notoriety went through the roof! People began to ask me to help them get luxury cars also, which I successfully did. This led me to start my own business. Overnight, the phone in my office began to ring off the hook. From local hustlers to iconic rap stars and music executives, they all sought my services which increased my clientele substantially. I felt at the time I was finally living out my dreams!" stated Davis, a 37 year old, single mother of two children, serving a decade plus sentence for bank fraud."
After two close brush-ins with the law, Jamila, also known as "Mila Winfrey" to the likes of celebrities such as Jada Kiss, Fabolous, D.J. Clue, Dwight Freeney and Zab Judah, got her Real Estate Broker's license in 1998 and expanded into real estate investments. Opening a new company Diamond Star Financial, she provided millions of dollars in financing for homes of celebrities causing her to sky rocket to the top of her field, ultimately becoming a multimillionaire by the age of 25. Responsible for forging valuable business partnerships and personal relationships between hip hop artists and professional sports figures, Jamila gained great respect and notoriety amongst her peers. Unbeknownst to her at the time, her lavish spending habits, which encompassed the purchase of 9 high-end estates in Bergen County, New Jersey and a fleet of vehicles including a Maybach, along with shady business practices, would cause her severe long term consequences. In the middle of negotiations for a private jet to be used for her celebrity clients, Davis gained the attention of the FBI and her self-made empire quickly crumbled.
In 2008, Jamila T. Davis was convicted of bank fraud for her role in a 30 million dollar mortgage fraud scheme and sentenced to 12 1/2 years in federal prison (See U.S. v. Davis 2:05-cr-0482-JLL-01 (District of New Jersey)). From behind bars, stripped of her worldly possessions, she has utilized her pen and pad as weapons to overcome adversity, creating several books to empower her generation.
"Trapped behind bars a little over six years, I've noticed a constant cycle of women who've come in and out of these prison doors. Although we vary in age, background and ethnicity we all seem to share one common denominator; we highly sought after the esteem of others, placing their acceptance over our own well-being. To sum it up, we were chasing! Some chased after love, appreciation & friendship; others chased after money, notoriety and power. Caught up in the thorn of materialism or acceptance many of us lost precious years of our lives behind bars." Stated Davis, who is also a founder of the WomenOverIncarcerated.org prison reform movement.
"Sitting on the top of my bunk in a 5 1/2 x 9 cubicle, which isn't much bigger than the smallest walk in closet or the elevator inside the luxury condo I once lived in, I've had nothing but time to think and reflect. Through my writing I have back tracked the steps of how I landed in prison, which led to profound discoveries I never had time to take note of in the free world. I was able to pinpoint key events, places and people who ultimately swayed my way of thinking. After my success in reaching teens in a prison public speaking group, I realized my story could really make a difference. I wrote my book 'She's All Caught Up' about my early life experiences to warn youth about the severe consequences of poor choices and to enlighten parents to the common pitfalls that teens fall prey to."
"Raising my children from a prison visiting room these last past six years, I can honestly say it wasn't worth it! I missed out on so many memorable events in their lives. My son was only 11 years old when I was first incarcerated. This past June he graduated from high school, which was a key memorable occasion I missed out on. I'd give back every single dollar I ever made to regain my freedom and return home to my family!"
"Movies and books often glorify the lifestyle of crime, but few talk about the psyche of those of us who live life on the edge and dare to take such risks. I created my book to share the truth of the inner void I was searching so passionately to fill. Like many others, I falsely believed people, places and things would satisfy me, so I chased after them relentlessly. In the end I discovered how pointless it all was. There is a huge lesson that has come out of my life story which I want to share with the world. It is my goal to prevent anymore 'Young Jamilas' from having to serve decade plus sentences behind bars to awaken to the truth!"
Young Jamila grew up in a loving two parent, middle class home in Jamaica Queens, New York. Her hardworking parents, the Davises, overcame barriers of poverty and racism faced by African Americans in the segregated South. Determined to afford their own children the opportunities they themselves never had, the Davises provided their children with a good life, hoping to guarantee their success.
At first it seemed as if their formula worked. Jamila became her parents "star child." Throughout elementary and middle school she maintained straight A's, graced the stage at Lincoln Center in dance recitals and toured the country in an off-Broadway play. All was copacetic until high school years when Young Jamila meets her first love- a well known drug dealer from the Southside housing projects. Poisoned by the thorn of materialism, Jamila's values quickly changed. She lusts after independence, power and notoriety, and she chooses life in the fast lane to claim them.
When this good girl goes bad it seems like there is no turning back!
It's not an easy task to gain the attention of today's youth, but author Jamila T. Davis's street credibility gains her access and her action packed, eye opening story hits home! This audacious inmate author/activist is determined to overcome adversity, pay her way forward and transform lives through her literary work. This time around her formula for success is writing it like it is!
"An exceptionally well written and dramatically candid account, Jamila T. Davis' personal story is very highly recommended reading, especially for teenagers and young adults facing similar backgrounds and temptations. 'She's All Caught Up' is very highly recommended reading and will make an enduringly popular addition to school and community library American Biography collections."
Jim Cox
Chief Editor
The Midwest Review
"While reading She's All Caught Up , it startled me that I made some of the same mistakes as Young Jamila. It even made me question why? I guess I perceived myself as not being pretty or good enough too, at times. I've also chased after the acceptance of others and did things simply to please them, just like Jamila. But after reading about the tragedy that occurred from the author's mistakes, I am scared to make decisions that could put my life in jeopardy. This book was a wake up call."
Tawana Taylor
High School Senior
Philadelphia. Pennsylvania
" I watched Jamila go through the ups and downs of life, like a real soldier. Serving a decade plus sentence without any complaints is something some of the hardest so-called "gangsters" can't even do. She's put it down in the streets of New York like no other female from the hood that I know! The term "boss chick" is an understatement to describe her accomplishments and the many opportunities she provided for those of us in the sports and music industry. When she spoke back then, we listened. Now watching her from behind bars use her talent to empower others not to make the poor choices she once did is extremely powerful and quite amazing! Hearing it from someone who really lived the life and is now suffering the consequences will cause anybody to think twice, even me!"
Zab "Super" Judah
Former Welter Weight
World Champion
She's All Caught Up is now available at Voices International Publications, 196-03 Linden Blvd, St. Albans, NY 11412, http://www.voicesbooks.com for $15.00. Also available via BN.com and Amazon.com. To follow Jamila T. Davis on her journey to freedom visit http://www.jamiladavis.com or http://www.facebook.com/authorjamilatdavis.
Contact: Jeremiah Sills at (201)878-6366 or jsills(at)voicesbooks(dot)com or Liddie Davis at voicesinternationalpublications(at)aol(dot)com