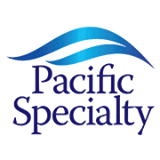 Menlo Park, CA (PRWEB) August 27, 2014
Guthrie returns to the Product Development team after serving as the company's Chief Information Officer for the past year. He will be performing a thorough review of all products to ensure Pacific Specialty provides the best product options for consumers. In addition, Guthrie is overseeing the development and implementation of new tools that will modernize and simplify Pacific Specialty's personnel procedures.
"We are excited to promote Bill to SVP of Product Development because we know with his technical background and industry knowledge, he will create a strong department that will influence positive change throughout the company from staff, policyholders and the agents and brokers we work with."
Since joining the McGraw Group in 1991, Guthrie has worked extensively in the Product Development Department and has also served as Chief Information Officer, Chief Risk Officer and Vice President of Information Technology during his 23-year stint with the company. He holds a bachelor's of science degree in industrial psychology from California State University, East Bay and is also a licensed fire and casualty broker-agent.
"I am thrilled to be back at the helm of Product Development. There are a lot of ways we can make improvements that are best for the policyholder and the producer selling the product," Guthrie said. "We are in the midst of rolling out tools for our staff that will streamline our processes, making the company more efficient and easier to work with. There is a lot of positive change happening at Pacific Specialty."
Visit Pacific Specialty: http://www.pacificspecialty.com
Pacific Specialty Insurance Company
Pacific Specialty Insurance Company – the flagship of the McGraw Group of Affiliated Companies – is recognized as an industry leader in Property, Powersports, Liability and Commercial Garage insurance. Pacific Specialty operates as an admitted insurance company in all 50 states and the District of Columbia and offers coverage only through independent agents and brokers. The company is an AM Best "A" Rating and a Ward Group "Top 50 Performer" for four consecutive years.
Like Pacific Specialty on Facebook: https://www.facebook.com/PacificSpecialtyInsuranceCompany
Follow Pacific Specialty on Twitter: https://twitter.com/PSInsurance
Keep Up with Pacific Specialty on LinkedIn: https://www.linkedin.com/company/pacific-specialty-insurance-company
Contact:
Erin C. Heine
eheine(at)pacificspecialty(dot)com
800-303-5000 ext. 8287