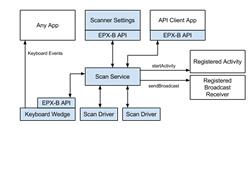 Harmony, PA (PRWEB) September 03, 2014
SDG Systems, a leader in system software and operating system support for Android on enterprise platforms, recently enhanced the EPX-B software in its Enterprise Platform eXtension Framework (EPX Framework™) software solution for Android. The EPX-B enhancements now support multiple barcode scanners, including scanning from the same or different types of scanners, from a single Application Programming Interface (API). EPX-B reports the scanners that are available to the application, allowing the application to seamlessly support different scanners, whether they are camera-based or hardware scanners.
To demonstrate the capabilities of EPX-B and to facilitate enterprise deployments, SDG has released three software packages to the Google Play store. These include the following:

EPX-B Barcode Scanner Core - software that implements a scan service, barcode settings application, ZXing-based camera driver, and Scan Now application
EPX-B SNAPI Barcode Driver - a device driver that supports the Symbol Native API (SNAPI) protocol
Barcode List Manager for EPX-B - a barcode scanning productivity application that is useful for simple inventory or asset management
The EPX-B Barcode Scanner Core software implements the EPX-B Scan Service and Settings Application. It also includes a default camera scanner, utilizing libraries from the ZXing project. Some key features include the following:
Automatic generation of Settings user interface; support for new hardware drivers requires no user interface code
Support for multiple simultaneous scanners
Flexible programming interface with low-level API enables manufacturers to create compatibility layers
Hardware-agnostic design gives end users device flexibility
Scan Now application is a useful utility that copies scanned data to the Android clipboard for use in other applications.
The SNAPI Barcode Driver for EPX-B is available in Google Play as a paid app. Volume discount licensing is available. SNAPI-compatible scanners may be connected to Android phones and tablets that provide USB host support. SDG Systems supports the Samsung Galaxy Tab 4, Tab S, Pro and Note devices using the Lava OTG Host & Charge Adapter, also available from SDG Systems. The Lava adapter supports simultaneous USB host and charging, so Samsung tablet battery life is not a concern. Nexus and other devices that support USB host also work with the software. Video demonstrations are available on SDG Systems' YouTube channel.
The free productivity application, Barcode List Manager for EPX-B, assists users in gathering barcode data and sharing that data with another application or a recipient. For example, an organization can collect product serial numbers, then share that data using GMail, Dropbox, Evernote or other applications. Barcode List Manager can select from available hardware scanners or use the default camera scanner to perform this asset management.
OEMs interested in integrating EPX-B into their Android hardware platforms should contact SDG Systems for licensing information. ISVs wanting to support EPX-B APIs may download the free Software Developer Kit (SDK) from SDG Systems' website. Support for additional barcode scanners is planned.
Other services offered by SDG Systems include Android and Linux porting, device driver implementation, and application development.
About SDG Systems
SDG Systems delivers innovative, customizable, Android and Linux solutions, specializing in rugged and mobile computers. SDG provides superior technical support, software customizations, and complete solutions. SDG is a leader in the implementation of Google Android solutions on rugged and embedded devices since 2009 and has been developing and supporting Linux system software since 2001.