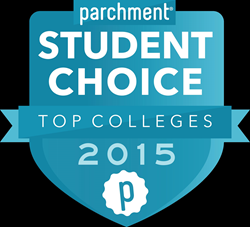 'Every year, our college rankings unearth some new and interesting trends amongst this next generation of college students,' said Parchment's Chief Executive Officer, Dr. Matthew Pittinsky, Ph.D.
Scottsdale, AZ (PRWEB) August 27, 2014
Each year, prospective students are bombarded with information on colleges from the best party schools to the best school for your money. They too are presented with a myriad of college rankings based on data collected from universities. However, those rankings do not take into account inbound college students' choices. Parchment, the industry leader in the electronic exchange of student transcripts, today announced the results of its 4th annual Student Choice College Rankings study, which compares more than 700 colleges and universities among a sample size of more than 27,000 U.S. in-bound college students nationwide. The ed tech company has the unique advantage to issue college rankings, as it is the only study that reveals college preferences and enrollment decisions reported from actual college-bound students.
Parchment's Student Choice College Rankings found that military institutions, including the U.S. Air Force Academy, have become increasingly popular amongst in-bound college students. The military school jumped 35 spots from 42 on last year's list to seven this year, beating out top Ivy League universities, Columbia University (#12), Brown University (#14) and Dartmouth College (#15). Parchment's study also found that students that were admitted to Stanford and another school, most often elected to attend Stanford, making it the top student choice, followed by M.I.T. (#2) and Harvard (#3), for the second consecutive year.
"Every year, our college rankings unearth some new and interesting trends amongst this next generation of college students," said Parchment's Chief Executive Officer, Dr. Matthew Pittinsky, Ph.D. "We are always impressed with the findings as it reflects actual student decisions, such as military schools shooting up in the rankings to beat out the prestigious Ivies. As student decisioning trends change over the years, we are confident that our Student Choice College Rankings is the most accurate reflection of current trends."
A full breakdown of the Top 25 institutions in the 2015 Student Choice College Rankings is as follows:
1. Stanford
2. Massachusetts Institute of Technology
3. Harvard University
4. Yale University
5. Princeton University
6. Caltech
7. United States Air Force Academy
8. University of Pennsylvania
9. Middlebury College
10. Duke University
11. Bowdoin College
12. Columbia University
13. University of Chicago
14. Brown University
15. Dartmouth College
16. United States Military Academy
17. Pomona College
18. Haverford College
19. University of California, Berkeley
20. Williams College
21. Swarthmore College
22. Bates College
23. Harvey Mudd College
24. Johns Hopkins University
25. University of California, Los Angeles
The final list unveiled a few more impressive moves among the set. Johns Hopkins University jumped the rankings from 42 to 24 this year, whereas Duke University fell from its previous position of number five down to 10. Harvey Mudd College also dropped in rankings, from eight to 23, yet University of California, Los Angeles shot up the rankings to its highest position ever, rounding out the Top 25.
Employing an Elo Ratings system, where all colleges are classified as equals, Parchment's Student Choice Rankings methodology puts schools in a head to head bracket, where they earn points based on a student's attendance or lose points if they are not selected. Parchment then takes into account a college's popularity score, awarding more points for colleges that are chosen unexpectedly and fewer points for those schools that could be considered predictable picks. At the end of each school year, Parchment then reviews the total points each school has earned to arrive at its rankings for the following year.
Parchment's college rankings are pulled directly from students using Parchment.com. The Parchment website is a free online resource to help students and parents research colleges, discover their chances of admissions, see how they stack up with their peers and send official transcripts when they are ready to apply.
For more information about Parchment or to view the complete 2015 Student Choice Rankings, please visit Parchment.com.
About Parchment
Parchment is a leading technology company allowing learners, educators and employers to request, verify and share credentials in simple and secure ways. The platform has helped millions of people and thousands of schools and universities to exchange more than 12 million transcripts and other credentials globally. Founded in 2003, Parchment Inc. is headquartered in Scottsdale, AZ, with offices in Roseville, CA, Denver, CO, Grand Rapids, MI, Toronto, ON and Washington, DC. Follow Parchment on Twitter and Facebook.