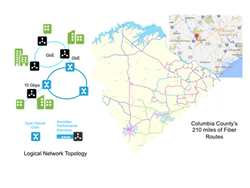 The Accedian performance assurance solutions allow us to have the confidence to welcome new challenges every day without having to recreate the wheel every time we provision a service. Michael R. Wilson
Columbia County, GA (PRWEB) September 09, 2014
Columbia County's surging population growth is driving demand for high-speed, multi-media Internet services for public safety, commercial and residential applications. In response, the Columbia County Community Broadband Utility, or C3BU for short, has built an all-fiber middle-mile network connecting their institutions, facilities, and citizens using Accedian performance elements.
The C3BU's mission is to install, maintain, and manage a cost-efficient network for the community. Service providers lease bandwidth over the C3BU network to provide links to homes and businesses. The Carrier Ethernet network must offer assured performance and resilience over several classes of traffic: from home Internet to 911 and first responder networks. 130+ Accedian units establish protected Ethernet rings, terminate circuits, and assure QoS in real-time.
Key Facts:
In March, 2010, Columbia County received a stimulus grant to fund 75% of an $18 million broadband project to develop high-speed services over the 290 square mile region. C3BU's Carrier Ethernet network new interconnects all Columbia County offices into a single cohesive communications infrastructure, while providing wholesale services to facilitate interconnectivity between service providers and business and residential customers in the county.
Overall, the U.S. broadband stimulus program will total over $7B USD from 2010 - 2014, with the aim to increase broadband speeds and coverage to non-urban areas: 98.5% of this population will now have access to broadband, up from 92% 4 years ago (Source, FCC: "rural counties" defined as those with fewer than 100 people per square mile).
Columbia County's network is more advanced than many Tier-1 service providers, using a 20 Gbps SDN-controlled optical core and Accedian's programmable, ultra-low latency elements at edge and customer premise locations. Accedian units establish, optimize and monitor QoS for per-second, real-time visibility across the full network footprint.
Executive Quotes:
"Accedian Network performance elements provide the flexibility and dependability that our network customers demand. The solutions allow us to have the confidence to welcome new challenges every day without having to recreate the wheel every time we provision a service." Michael R. Wilson, C3BU Network Operations Manager
"Columbia County has very efficiently built a world-class network, driven by a need to serve the community and to ensure long-term scale, manageability and optimal performance for critical services. We are proud to support the full service lifecycle, from turn-up to ongoing operations and performance optimization." Patrick Ostiguy, President & CEO, Accedian Networks
Supporting Resources:
Columbia County Community Broadband Utility site: http://www.columbiacountyga.gov/index.aspx?page=4049
Accedian solution overview video: http://youtu.be/HlSBFZlwIq0
Network Map - jpeg attached
About Accedian Networks
Accedian Networks® is the Performance Assurance Solution Specialist for mobile backhaul & small cells, business services and service provider SDN. Open, multi-­vendor interoperable and programmable solutions go beyond standard-­based performance assurance to deliver Network State+™, the most complete view of network health.
Automated service activation testing and real-­time performance monitoring feature unrivalled precision and granularity, while H-­QoS traffic conditioning optimizes service performance. Since 2005 Accedian has delivered 200,000+ globally-­installed platforms, including 100,000+ assured cell sites. Accedian.com
About Columbia County Broadband Utility
The Columbia County Broadband Utility is a department of the Deputy County Administrator's office, established to build, operate and maintain the Columbia County Community Broadband Utility or C3BU for short. The C3BU's mission is to provide a cost-efficient, self-sustaining middle-mile fiber network for their community. Columbia County is home to more than 135,000 residents.
The availability of leading infrastructure, excellent schools, and pleasant climate has attracted tremendous residential and commercial growth. Rated as the 35th fastest growing county in the most recent United States census, Columbia County hosts world-class organizations across energy, technology, healthcare and defense markets.