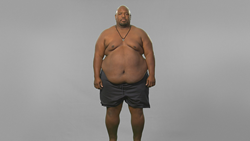 Aurora, Colo. (PRWEB) August 28, 2014
The next episode of "Extreme Weight Loss" Season Four introduces a fun-loving man from Tallahassee, Fla. He's a drama coach who longs to audition for roles on Broadway, but his 448-pound frame has made achieving that dream impossible.
Featuring a unique, non-competitive approach to weight loss transformations, "Extreme Weight Loss" airs Tuesday, September 2 (9:00-11:00 p.m., ET/PT) on the ABC Television Network.
49-year-old Rod always wears a big smile on the outside to hide the self-doubt and unhappiness he keeps buried deep down. He struggles with food addictions and has never told his father he's gay. Rod realizes that his excess weight and hidden sexuality have kept him from truly expressing who he really is. This episode documents Rod's year-long physical and emotional journey.
New in Season Four, each "Extreme Weight Loss" participant spends the first 90 days of his or her weight loss journey at the University of Colorado Anschutz Health and Wellness Center (AHWC) in Aurora, Colo. Holly Wyatt, MD, medical director for the AHWC, also serves as medical director for the television program and is seen on the show each week helping participants safely lose up to half of their body weight.
At the end of this episode Rod will "pay it forward" by giving a friend or family member the opportunity to transform his or her life. The CU Anschutz Health and Wellness Center will provide a scholarship to the one-week, evidence-based "Extreme Weight Loss: Destination Boot Camp" transformation program.
The University of Colorado Anschutz Health and Wellness Center offers some of the country's most advanced research and science-based expertise, focusing on a comprehensive weight loss and weight management approach, including fitness, nutrition and wellness services. Learn more at http://www.anschutzwellness.com. Follow us on Facebook and Twitter.
Extreme Weight Loss is produced for ABC by Eyeworks USA. The series is executive-produced by JD Roth, Todd A. Nelson, Matt Assmus and Brant Pinvidic.